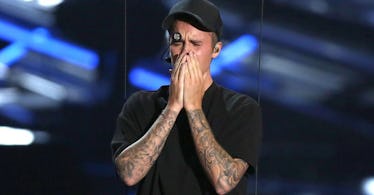 Justin Bieber Finished His VMAs Performance By Crying On Stage (Video)
Justin Bieber has a lot of two things these days: synthesized woodwind instruments and questions.
At the VMAs on Sunday, Bieber performed two singles -- "Where Are Ü Now" and the lead single from his upcoming album, "What Do You Mean," -- and both songs appear to be comprised mostly of questions.
The pop star concluded his performance by openly weeping on the VMA stage after hovering in the dark arena to a pre-recorded voiceover.
Maybe he cried because the pan flute is an emotional instrument or because he didn't get the answers he was seeking, or maybe, he just realized the inconsistent spelling of the word "you."
No matter the cause of his soft, gentle and likely expensive tears, fans reached out via Twitter to comfort the Biebs.
@justinbieber — celeste (@surfingharold) August 31, 2015
Even famous fans (maybe?) lent words of encouragement (sort of?).
Some speculated over whether or not Selena Gomez even gave a sweet crap about the grand opening of Bieber's emotional floodgates…
selena assistindo a apresentação da demi/ do justin #VMAs pic.twitter.com/vgAC0aMJEB — 1 YEAR (@larrydrunksz) August 31, 2015
…while others defended her as the gatekeeper.
Bieber's album reportedly drops in November, and whether he cried tears of joy or sadness, fans and critics care if he cries at all.
That HAS to be a good sign.
Citations: Justin Bieber cries after MTV VMAs performance (Entertainment Weekly), THE SELENA GOMEZ/JUSTIN BIEBER CONSPIRACY THEORISTS ARE STIRRING THINGS UP AFTER THE VMAS (ELLE)