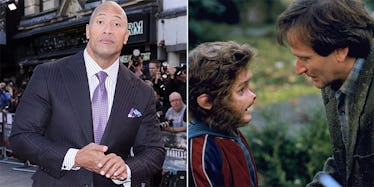 There's A 'Jumanji' Remake In The Works, Thanks To The Rock
Jonathan Hordle/REX/Shutterstock/ TriStar Pictures
YOU GUYS, I HAVE HUGE FREAKING NEWS.
There's going to be a "Jumanji" remake, and I'm flipping out. I can barely sit in my seat. I'm so excited.
"Jumanji" was one of my favorite movies growing up, especially because it starred the one and only Robin Williams.
But now, the board game will come back to life once again with the help of The Rock. The actor posted an Instagram sharing the big news with his followers. Take a look below.
The full caption read,
Love this script! Big movie news that me and my canine gal Shang are excited to share;) To produce, create and deliver original properties to fans like HBO's #ballers to this summer's #CentralIntelligence is one of the best parts of my job. But to take great properties that are beloved worldwide like #BAYWATCH and #RAMPAGE and have the opportunity reimagine their stories in dope new ways to a whole new generation is truly an honor. It's official. We'll produce and deliver to a whole new generation a title that I love and is one of my all time favs: There's games you play for fun... then there's games that change your life. JUMANJI Working on edging up an already very good script with my @sevenbucksprod team. Up next is meeting with our producer Matt Tolmach and director Jake Kasdan. Shooting starts this fall. Promise to deliver something cool and special.. and not screw the whole damn thing up;). As always I'll keep you posted. Casting this should be fun! #JUMANJI #JungleLife #JustPressStart #SONYPictures
AHHHHH, HELL YEAH. I can't wait to hear more about the movie... I bet it'll have a stacked cast. Thanks for the great news, Dwayne!