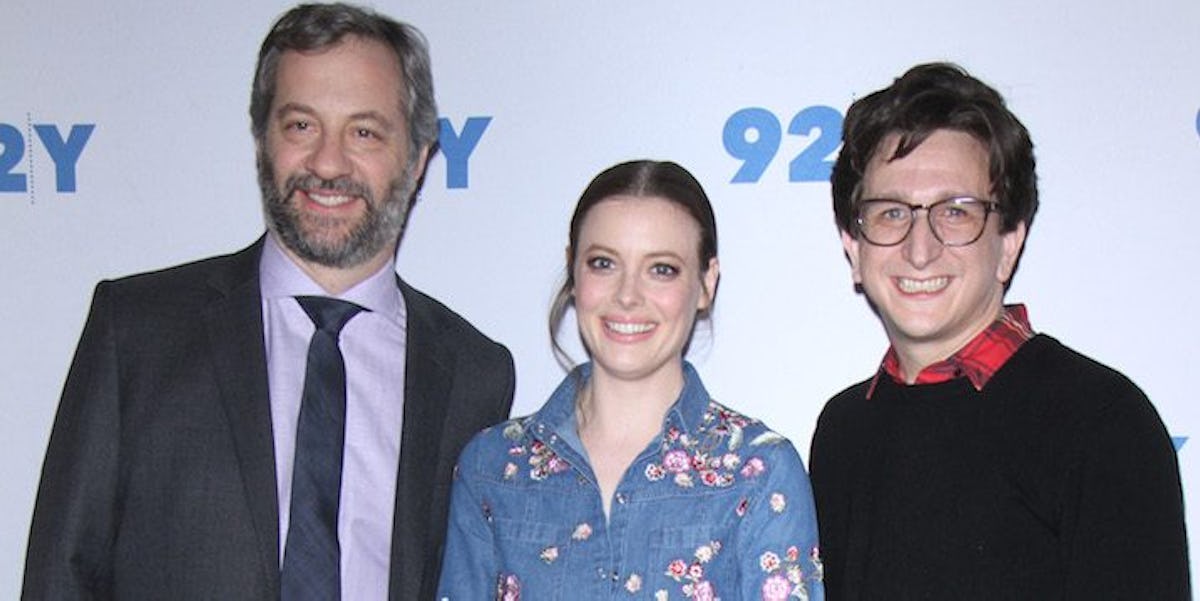 Judd Apatow, Gillian Jacobs And Paul Rust Get Real About Millennial Love
REX/Shutterstock
We are the texters, the sexters, the swipers, the snappers, the tweeters, the 'grammers. 
The millennial generation is a combination of slow patience and quick wit; we've got our emotions connected to our fingertips and emoji hearts worn on our sleeves.
However, the concept of love is equally as romanticized as it's been for generations that came before us.
Judd Apatow, Paul Rust and Lesley Arfin have harnessed these intricate hardships of young relationships in the Netflix original series "Love."
The show stars actor-writer Rust alongside Gillian Jacobs in a hard-to-look-away car crash story of relationships, friendships and the ups and downs of falling in love.
"Love" falls into the developing "un-romantic comedy" genre, telling the non-clichéd story of characters who seem aggressively incompatible.
The main characters on the show, Mickey (Jacobs) and Gus (Rust), fluctuate between frustratingly intolerable and genuinely likable.
They feed off each other's defining qualities -- Mickey, a complacent but wild drifter, and Gus, a textbook nice guy with budding ambition -- and leave audiences wanting to shake sense into them while trying to figure out if their own relationships are equally as fucked up as the one on-screen.
Netflix ordered two seasons of "Love" right off the bat and the show was recently renewed for a third.
The first season of "Love" ends with Mickey confessing her alcohol and drug abuse problems to Gus outside of the mini-mart where they first met; season two picks up in the same spot. 
In comparison to season one, season two is garnering even higher praise from critics.
Season two's tone still has the will-they-won't-they quality of the first, but as opposed to what seemed like a series of individually moving parts, we see a core group who depend on one another develop in the new season.
Prior to the release of season two, I had the chance to speak with Judd Apatow, Paul Rust and Gillian Jacobs about the creation of the show, the ever-changing perspective of millennial love and the journey of the characters.
More often than not, fans of "Love" find themselves wanting to grab Mickey and Gus by the shoulders and either scream, "Get your shit together," or, "Please just grow a set of balls," respectively.
When asked if they share these sentiments as actors, Jacobs and Rust said,
GJ: Definitely, but I think that's what makes her an interesting character to watch and a great character to play so if she figured everything out it'd become really boring. So I think if she was my friend in real life I would be very concerned, but since she is fictional I just enjoy her flaws. PR: Yeah sure, I think… from the beginning, we knew we had two seasons so the fun is sort of getting someone to slowly develop. I think all our opinions... don't usually change in a span of 30 minutes and so it is the fun of really twisting that knife… we like to twist the knife with the characters. 
For a show called "Love," it's not the first word that comes to mind when watching the tumultuous and often self-destructive relationships play out on-screen.
In terms of the show's title, Rust told me,
We definteily did talk about you know the show being called 'Love,' and if there is a different way we can explore that that's outside of two people who are physically intimate with each other… So it is like the love between two friends or the love between a parent and a child, so with the title it's not ironic… it's a sincere title and this is what it is. That said, I have no answers or insight about love… I'm not an expert on this, I'm very much clueless. 
While I'm confident many people in their 20s and early 30s would also describe themselves as "clueless" when it comes to love, it's important to note what makes "Love" different than other comedic, relationship-focused shows.
With the theme of millennial love so prominent in mainstream TV, I had a hard time pinpointing exactly what makes "Love" so uniquely different.
Paul Rust perfectly articulated the answer,
I think it's the attitude. There's no villains on the show, there's no entirely bad people and no entirely good people, and I think getting to see how someone can at the start of an episode be a good person and at the end they disappoint you -- it's funny. If you like the show, on some level you're a masochist… so that's part of the appeal.
Judd Apatow added,
I think we're just trying to be as truthful as we can be and work from our comedic sensibilities. I think of everything like I'm still doing the 'Larry Sanders Show.' I just think what would Garry [Shandling] say the rules of this are, and he always just said you gotta make it about truth, and when we did the 'Larry Sanders Show,' he always said this is about people who love each other but show business got in the way, and ego gets in the way. And so with this, it's similar, it's just obstacles to love obstacles to connection and all the different ways we screw it up due to our wounds and baggage, and if you do that honestly it usually comes out funny also.
As mentioned, the show doesn't really fall into a specific genre -- it's as difficult to define as the concept it portrays. However, one of the things the show illustrates perfectly is the role of the modern female lead.
In many instances, a female lead who is wrapped up in love gets written off as weak. Speaking on Mickey and the way her interest in romance fits into feminism, Jacobs said,
I think the thing I like most about the show is it's a show about a relationship that is not solely about a relationship... She is interested in love but she's got a lot of other issues that she's grappling with and this show takes all those seriously. So, I don't really see it as a show just about Mickey and Gus in relationship to each other, I see it about a show about Mickey, Gus and the combination of the two of them and so it allows her to be a flawed person as dimensional as a male character. I don't feel like her desire for love completely dominates her life and I was also excited that in season two you really do see her try and work for the first time. So that was a different sort of dynamic of what is it like for a character who's sort of coasted on charm and bullshit to actually put herself out there and think about what she wants out of her career... I'm excited to see, as the show goes on, what other areas of Mickey's life develop and what she learns about herself through friendship, through work, through parents, and not just in relationships. 
Because of the raw nature of the show, it's difficult to choose a side -- by no means are Mickey and Gus a Ross and Rachel, Carrie and Mr. Big, Topanga and Cory-type couple the audience roots for.
Judd Apatow shared his thoughts on if Mickey and Gus are a couple audiences should be rooting for.
I think that's part of the fun of watching it. I think [people's] opinions of that changes episode to episode. There might be an episode where you think, 'Oh my God, they have such great chemistry. If they'd just stop doing this, and get out of their own way it would work great,' and other times where you want to say to one of them, 'Run for your life.' But I think that's how we all feel early in relationships, we're trying to figure out [if this] is this the person I should commit to or should I run... or if it's me, just run it into the ground. 
However, in an effort to dig a little deeper, I asked Judd, Gillian and Paul if they wanted to see the pair end up together.
JA: I always want everyone to be together, I was a child of divorce, so I always root for couples to figure it out, but that doesn't mean that's what the conclusion will be because I feel like it's going to be fun to just see where they take us, and I usually don't write that way. I like to know endings, this might be one of the first things where I didn't have my own idea of whether or not they would survive.  GJ: I don't have a stake in it, they're fictional characters. So I think whatever is the most interesting story is what I would like to have happen… I'm also a child of divorce, so I think everyone should just break up. I don't really have a goal for the show. PR: I guess I would just want them to be happy. GJ: His parents are still married, so he's more hopeful. 
It's obvious the cast and writers of this show are as in tune and confused with love as the rest of us, which makes for a TV show that's brilliantly reflective of every self-destructive, ambitious, narcissistic, selfless fuck-up in this generation.
Seasons one and two of "Love" are now streaming on Netflix.