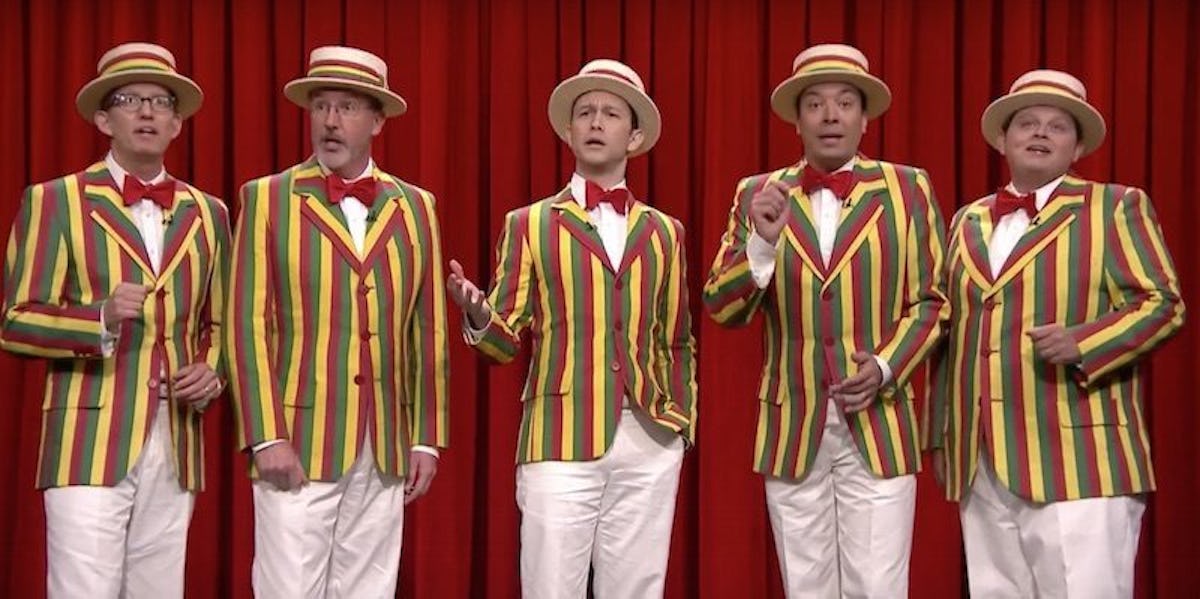 Joseph Gordon-Levitt And Fallon Did Amazing Barbershop Cover Of 'BBHMM' (Video)
Bitch better have Joseph Gordon-Levitt's money.
I'm going to make the argument here that a barbershop quartet singing this song is a little bit more effective than Rihanna singing it.
WHOA! WHOA! CALM DOWN! HERE ME OUT! PUT DOWN THE BASEBALL BAT, RIRI!
Imagine it's 4 am and you're walking in the bad part of town.
You're in pretty deep with Big T, the local drug lord who runs the crime in these parts.
You turn a corner and you hear a bottle drop. You quickly look around and see nothing except scattering mice and maybe a shadow on the wall. It happened soo fast, you couldn't tell.
You walk a few steps knowing you're only two blocks away from the safety of your apartment, but that also means you're two blocks deep into the dangers of being surrounded by the unknown.
An unknown filled with Big T's lackeys, each trying to cash in on the bounty he's placed on your head.
You walk another block, avoiding street lights, using the negative space of darkness as your only cover. Half a block more and you can see your home door. Almost there.
You fumble for your keys before eventually picking the one you need to unlock safety.
You hear a rustle. You don't look; you just run.
Five steps away.
Here it is. You made it. You.....
A crash happens, your head feels like an 18 wheeler just T-boned you. You fall to the ground, hard. You turn over, you look toward the sky and then you see it.
A GODDAMN BARBERSHOP QUARTET SINGING IN PERFECT SYNC ABOUT HOW YOU'RE A BITCH AND YOU BETTER HAVE BIG T'S MONEY.
Now, YOU tell me that's not more intimidating than anything Rihanna's ever done. Five white dudes in full uniform in a bad town unified as a gang? That's effing horrifying and you know it.
You get what I'm saying, RiRi? Cool. We good? Great.
Now, also, I should be VERY upfront. I don't have your money.