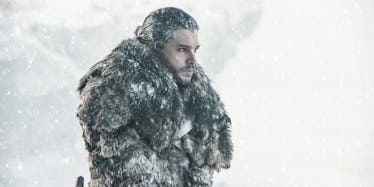 Jon Snow Knows Nothing About The 2017 Emmys, Kit Harington Is Nowhere In Sight
Helen Sloan/courtesy of HBO
The Primetime Emmy Awards 2017 are in full swing out in Los Angeles tonight, but the red carpet seems a little emptier than usual. While the casts of Westworld, Stranger Things, This Is Us, The Crown, The Handmaid's Tale, House of Cards, and Better Call Saul are all whooping it up, one regularly scheduled dour-faced gentleman is nowhere in sight. Where is Kit Harington of Game of Thrones?
Do I really have to remind everyone all over again? Game of Thrones *isn't* nominated this year. No, that's not a snub either. Game of Thrones Season 7 debuted so late this season it missed the cut off for nominations for the Emmys this year. The last day to have aired is June 26, 2017, and Game of Thrones didn't even start airing until July 16, 2017, nearly a month later, and three days after the Emmy nominations for this evening were formally announced to the public. Game of Thrones Season 6 already was nominated last year, 22 nomination strong and Kit along with them.
Game of Thrones Season 7 will be nominated *next* fall, in the 2017-2018 season batch of Emmys. As for Harington, don't worry about him. Last we saw him, he was bumming around Italy working the Dolce and Gabbana campaign, waiting for Season 8 to begin filming next month.
Harington isn't the only no show this evening. No one from the Game of Thrones cast is at the Emmys. If you check out Maisie Williams' IG this afternoon, the last red carpet it shows her getting ready for is TIFF, The Toronto International Film Festival, with her co-stars from a completely different project. Sophie Turner is also not getting ready for anything this evening. As for Emilia Clarke, she's off doing beauty shoots for commercial products during her downtime.
One might have hoped that the Emmys would have at least seen fit to have some of the Game of Thrones cast show up as presenters this evening, but perhaps they didn't bother since HBO doesn't exactly need the help in the representation department. Even without Game of Thrones on the roster of nominees this year, the channel did just fine, with 101 Emmy nominations across all of their programming, including Westworld, which picked up Game of Thrones' slack by picking up 22 nominations -- the usual number they hand to Westeros simply went to a different world of West.
Westworld is coming in a heavy favorite this evening as well. it took home five nominations this past weekend at the Creative Arts Emmys portion of the Primetime Emmy show. That ties it with Stranger Things for most wins coming into tonight's show, which is Netflix's favored nominee this evening. (Sorry, The Crown and House of Cards.) This Is Us is also hoping to maybe slide in to win for Best Drama with Thrones out of the running, but NBC's drama is a long shot to take the crown.
Next year will be an entirely different kettle of fish, with both Westworld Season 2 and Game of Thrones eligible for nominations. (It is assumed that Westworld's "spring 2018 debut will actually be in the old April-June Game of Thrones airing slot it so recently abandoned.) Will the two of them cancel each other out? Will a combined 22 each set of nominations actually be a thing that happens? (If so, HBO execs might just fall out of their chairs in a collective scream of joy.)
We may be missing the cast of Game of Thrones right now, but not to worry. They'll be back to filming in a couple weeks time. Let's let them have their time off, including time away from all spotlights and red carpets. Sometimes the biggest show in the world needs a little break.