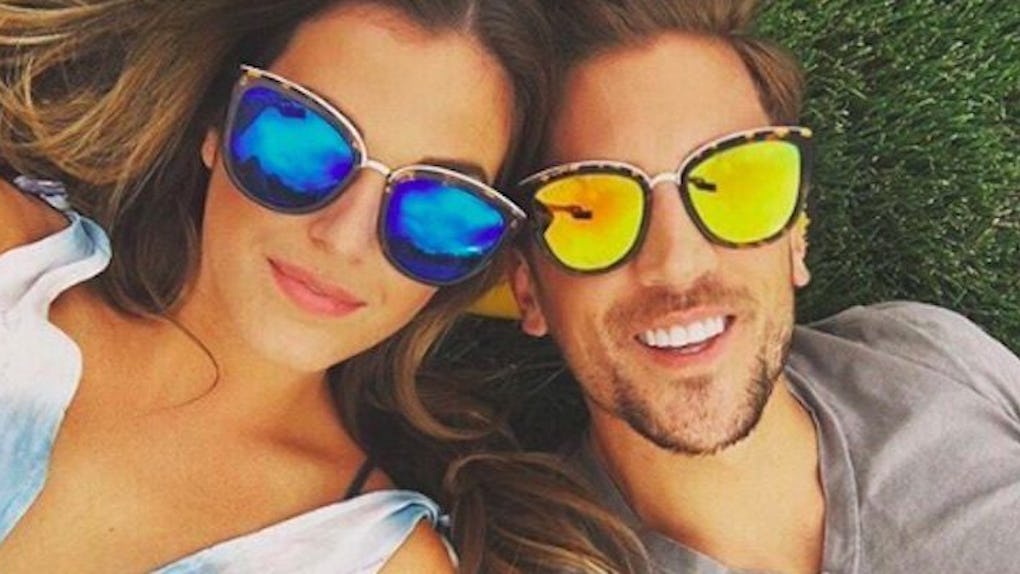 Instagram/ Joelle Fletcher
JoJo And Jordan Reveal Disguises They Wore While 'The Bachelorette' Was Airing
Aww! Ever since the finale of the most recent season of "The Bachelorette," JoJo Fletcher and Jordan Rodgers have been the couple that makes everyone go, "Him?" and "Why?" and "Enough!" and, more recently, "Still?".
Yes, silly gooses! The pair is still two totally relevant celebs looking to share their cute, romantic stories of v. legitimate love, so get ready for one that'll pluck away at your heartstrings.
As usual, the couple was forbidden from appearing in public together after filming in an attempt to keep JoJo's selection a secret until the finale premiered.
On Monday, Jordan posted a photo on Instagram of himself and his lady love dressed as their ever-subtle alter egos, Goldie and Ricky, during what was supposed to be some time apart.
In a recent interview with Entertainment Tonight, Jordan admitted,
There was one time, we were in LA for a couple days -- separate -- so, I borrowed a buddy's Halloween costume, a mullet wig and a trucker hat… And took an Uber to her hotel and was kinda sneaking around a little bit.
Oh, jeez. You guys are BAD. Haha LOL!
Citations: Jordan Rodgers Shares a Throwback Pic Sneaking Around With JoJo Fletcher in Disguise: See Their Funny Costumes! (Entertainment Tonight)