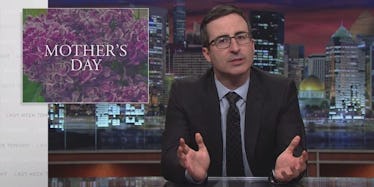 John Oliver Takes Down The US For Its Lack Of Paid Maternity Leave (Video)
Yesterday was Mother's Day. It was a time to celebrate the moms of this country.
Yet, it seems many employers in the US don't really honor mothers in the one way they should.
On his show last night, John Oliver skewered American companies for their lack of paid maternity leave.
He highlighted some heart-wrenching stories where mothers were forced to return to work mere days after giving birth.
Out of financial necessity, many new moms are unable to stay at home with their newborn babies for any significant amount of time.
The situation is very dire; we are one of only two countries in the world that do not provide any paid time off for new mothers. The other country is, you guessed it, Papua New Guinea.
Naturally, Oliver had some things to say about this unfortunate set of circumstances. You can hear his thoughts above.