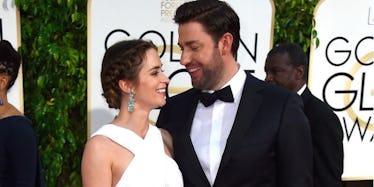 John Krasinski Talking About His Wife Is Everything You'd Ever Want
Getty Images
Not ready for marriage? John Krasinski's here to help.
Until you're ready to take that massive step into lifelong commitment, feel free to live vicariously through Hollywood's sweetest couple.
The "13 Hours: The Secret Soldiers of Benghazi" star spoke to The Daily Beast about his love for wife Emily Blunt, recalling,
The best days of my life started when I met my wife — that's the truth, it's not just me saying it because it sounds nice on a card. She's one of the coolest people, she's so talented, she's beautiful, and she's certainly out of my league. And so all of a sudden all of the things I loved, I got to find someone who loved that about me.
OH, I KNOW. Before you go picking out a wedding dress and showing up on the couple's lawn looking to sister-wife Blunt (or Krasinski), there's more.
The spouses are relatively new parents to Hazel, whose birth actually made Krasinski question his entire existence.
He shared,
When I had my daughter, I went through an experience where it really does hold up a mirror to your life whether you like it or not. Are you at the place where you want to be? Are you happy with who you are as a person?
Regardless of whether or not Krasinski likes himself, the free world loves him more than a million tiny famous babies.
Citations: John Krasinski Criticizes Politicians for Exploiting '13 Hours' (The Daily Beast)