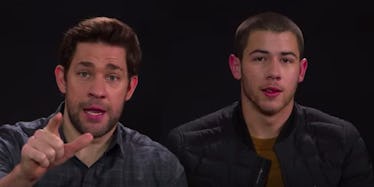 John Krasinski And Nick Jonas Reading Justin Bieber Lyrics Is All You Need
Vanity Fair
Wow. Nothing helps me get through Wednesday more than watching John Krasinski and Nick Jonas stare into my soul and tell me they miss my body.
If that sounds like treat for you, keep reading.
Vanity Fair blessed us this afternoon by sharing a video of 29 celebrities dramatically reading the lyrics to Justin Bieber's "Sorry."
You see, the song itself is extremely sexy. Listening to JB seduce you with those words is enough to make anyone go wild.
However, listening to John and Nick dramatically read those words, slowly and sensually, takes things to an entirely new level of sexiness.
The video also stars several other celebrities including Chelsea Handler and Lily-Rose Depp. I have to be honest though, my eyes were only focused on one thing. OK, well two. These delicious hunks of men.
Damn.
Well, I think I've done enough talking here. I suggest you check out these hotties in the video above ASAP. All I'm saying is it may be the best two minutes of your life.
Citations: Nick Jonas Dramatic Reading (Teen Vogue)