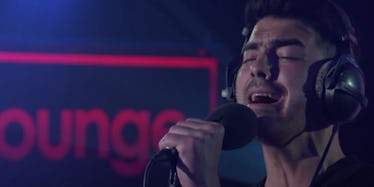 You'll Have Joe Jonas' Cover Of Selena Gomez's 'Hands To Myself' On Repeat
YouTube
ARE YOU READY TO LOSE IT TO SOME SELENA GOMEZ, PEOPLE?
NO, I MEAN REALLY LOSE IT, BABES.
I SAID LOSE YOUR DAMN MINDS.
Good, OK. That's enough. Stop.
DNCE brought the Selena heat to the BBC Radio 1 - Live Lounge with a funky cover of "Hands To Myself."
The quartet, led by former Jonas Brothers frontman and current Peter Gallagher eyebrow protege, Joe Jonas, will open for Gomez on her Revival World Tour.
Those of you watching this and instantly praying for a Selena Gomez/JinJoo Lee power-duo album are not alone and may join my letter-writing campaign at your convenience.
Citations: dnce Photo: Getty ImagesMUSIC Joe Jonas Makes a Mean Selena Gomez In DNCE's "Hands To Myself" Cover (Teen Vogue)