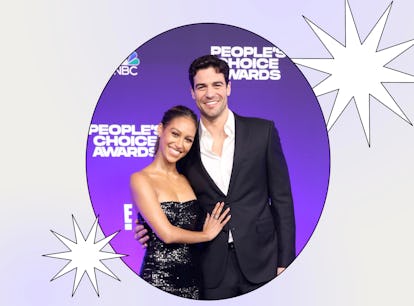 BIP's Joe & Serena Explain That "Spontaneous" Courthouse Wedding
"So much of what we do is so public."
Rich Polk/E! Entertainment/NBCUniversal/Getty Images
Joe Amabile and Serena Pitt might have met on the beaches of Bachelor In Paradise, but besides their on-screen proposal, they aren't your typical Bachelor Nation couple. On Oct. 27, 2022, Amabile and Pitt got married at a New York City courthouse — a franchise first. On the heels of their Valentine's Day partnership with Olmeca Altos Tequila and the Cobble app (a go-to source for date night inspo for indecisive couples), Amabile and Pitt open up about their "spontaneous" wedding choice and the best parts of newlywed life.
"Why wait a year planning to get married? Let's just kick off wedding planning and get married. It'll be special and fun," Pitt explains to Elite Daily. "And our whole journey has been untraditional," she adds.
Their wedding (well, their first wedding) was essentially the opposite of their engagement — zero drama and no professional camera crew. "It was kind of a fun little contrast," Pitt says. "So much of what we do is so public. We liked the idea of something so simple and intimate." Plus, per Amabile, it "took a lot of the pressure off" of the wedding planning process.
As for attire, they kept things casual. "We didn't even really dress up for it. Joe wore a navy velour sweater, and I'm actually wearing my wedding pants now," Pitt says. Amabile adds, "Every time I put that sweater on — I wear it all the time — I say, 'It's my tuxedo.'"
A bigger celebration (plus, a real tuxedo and wedding dress) is coming, though. They're planning a more traditional wedding in Charleston in September 2023. "Our wedding, we hope, will be a big, memorable moment, so to do something that was very private, simple, and intimate, something that was really just about us getting married... that was kind of the intention," Pitt adds.
In the meantime, they're enjoying the simple things about newlywed life, like weekly date nights — they love a home-cooked taco and home-poured margarita night — and being able to joke about divorce. "Joe likes to joke that he wants a divorce. He thinks it's so cool that he can say that now," Pitt laughs. (Amabile disagrees, explaining that his actual favorite part of married life is simply finding "the person that you just want to spend most of your time with.")
Planning their bachelor and bachelorette parties, Charleston wedding, and honeymoon is also taking up a lot of their focus. The one place they've ruled out? The beaches of Paradise. "Any chance we get to go back there and relive those memories is obviously welcomed and very special. We're married from it," Pitt says. "But I don't know if we can go on a honeymoon without air conditioning."