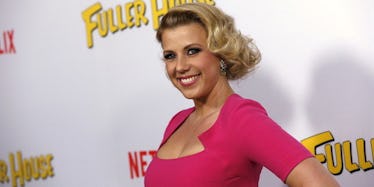 Jodie Sweetin Gets Super Emotional Discussing Her Struggle With Addiction
Reuters/ Mario Anzuoni
Jodie Sweeten's return to the small screen in "Fuller House" not only made her a fan fave on the reboot but scored her a spot on the latest season of "Dancing with the Stars."
On Monday's episode, the actress reflected on her struggle with drugs and alcohol following the 1995 series finale of "Full House."
She recalled,
It really was a huge loss for me that I didn't know how to grieve… Drugs and alcohol just sort of numbed everything. I was doing cocaine, and ecstasy, and alcohol and all that. The darkest moments for me weren't necessarily ending up in the hospital and all that. It was those quiet moments alone when I'd just hated the person I'd become.
This week's performance gave Sweetin a chance to celebrate the strong mother of two she is today, dancing to Andra Day's "Rise Up" for Most Memorable Year week.
She added,
I remember my mom saying that when I was little, I had this light that shined really big, and that she had watched my light become very dark… And I just remember my mom saying to me, 'Your light shines again.' So, through doing this dance, I get to shine again. I dimmed my light for a long time, and I don't feel I have to do that anymore.
Sweetin's light earned her and teammate Keo Motsepe a 23/30, the duo's best score thus far.
Citations: Jodie Sweetin tearfully recalls the 'darkest moments' of her drug and alcohol addiction on Dancing With the Stars (Daily Mail)