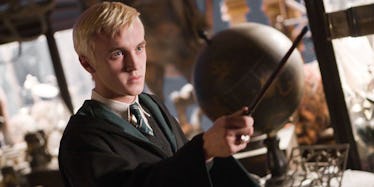 JK Rowling Shared A Sneak Peek Of The Wand Designs For 'Harry Potter' Play
Warner Bros
Even though it still seems too good to be true, we really are getting a new "Harry Potter" story, and it's only a few months away.
JK Rowling's sequel play, "Harry Potter and the Cursed Child," premieres July 31, 2016 at the Palace Theatre London, with previews in May. That's only a month away, so the cast and JK are in full-on rehearsal mode right now.
This morning Queen Jo shared an awesome picture on Twitter from those rehearsals of the wand designs for all your favorite "Potter" characters.
The author asked,
What do you think of our wand designs?
What do I think, Jo? Let me sum it up for you as eloquently as I can: AAAAAAHHHHHHHHHH OMG! OMG! OMG! OMG!!!!!!!!!
Not only are these wands BEAUTIFUL, but also we got a sneak peek at the characters we're going to see on stage. Apparently Draco Malfoy is going to be in the play?!
It looks like we're officially going back to Hogwarts this summer. I'm not crying, you're crying.
Now we'll all be waiting with bated breath for some set photos, since it seems like JK is going to be hanging around London for a bit.
The countdown for "Cursed Child" begins, and with it begins my nightly prayer someone buys me plane tickets to London. Seriously, anyone? Hello?
Citations: http://mashable.com/2016/04/18/harry-potter-and-the-cursed-child-wand-designs/#ArGhluUwCsqq (Mashable)