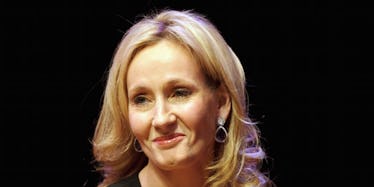 JK Rowling Releases Trailer For New Stories About 'Magic In North America'
Getty Images
OK, nobody panic, but JK Rowling just pulled a total Beyoncé move by announcing she is releasing a NEW WIZARDING WORLD SERIES TOMORROW.
AND SHE RELEASED A SUPER AWESOME TRAILER FOR IT TODAY!
*SCREAMS* *BREATHES INTO PAPER BAG* *RESUMES SCREAMING*
It's called "History of Magic in North America," a series of four original stories written by queen Jo herself, exclusively on Pottermore. As the name suggests, we're finally going to delve into what was going on with the wizards and witches across the pond in the US.
According to the trailer, we'll get stories on the wizarding school in America called Ilvermorny, a Native American legend called skin-walkers, the Salem witch trials and the wizarding government called the Magical Congress of the United States of America.
LOOK HOW AMERICAN AND BADASS THE GOVERNMENT LOGO IS! I can't wait to learn all about dat magical imperialism.
The first story will go live on Pottermore tomorrow, March 8 at 9 am.
Of course, all this is just to get us ready for the upcoming prequel film about Newt Scamander, "Fantastic Beasts and Where to Find Them," which hits theaters November 18.
I never thought I'd be so excited about a history book, but dammit, they got me with that music.
Citations: J.K. Rowling Will Reveal America's Magical History in 4 New Stories (Time)