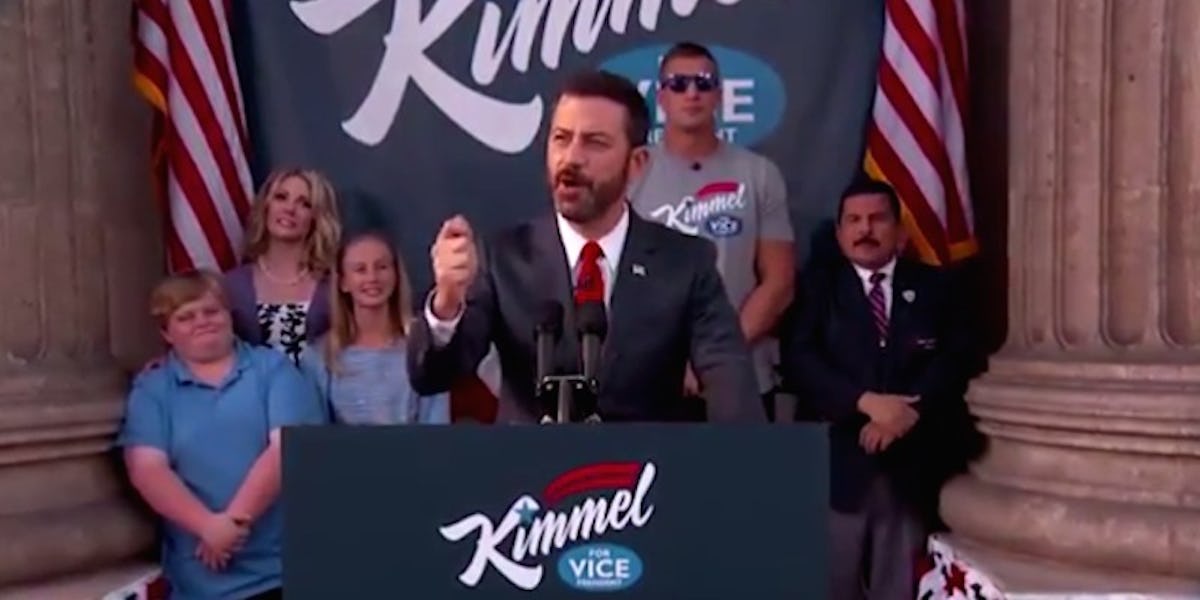 Jimmy Kimmel Announces He's Running For Vice President In Hilarious Skit
YouTube
Jimmy Kimmel announced on his show last night he will run a very serious, definitely-not-a-joke campaign for vice president this year.
He made the announcement standing at a podium on Hollywood Boulevard. His kick-off speech sounded a bit like a certain other entertainer running for office during this year's presidential race. Kimmel said,
I stand before you not as a TV host or a father or an amazing lover -- the best lover, for sure -- but as an American citizen. This country is at a crossroads. The promise of American has been broken. The future of our democracy is slipping through our fat, buttery hands. Millions of people are scared, worried about what is to come. But no one ever has to be scared again, because tonight I am humbled to announce that I am officially running for vice president of the United States.
The rest of Kimmel's show included guests Kerry Washington and Shonda Rhimes. The "Scandal" crew was a pretty appropriate group to launch Kimmel's vice presidential run.
But Kimmel's show was interrupted by a CNN "breaking news" report with Jake Tapper, Dana Bash and Wolf Blitzer. The CNN hosts started pestering him with questions.
Kimmel confirmed he hadn't been tapped by any of the current presidential candidates to run as their vice president, but he's going for it anyway.
Blitzer asked,
Jimmy, do you think you're making a mockery of this election?
Kimmel had the perfect response, given how this presidential race has gone so far. He said,
I think it's too late for anyone to do that, Wolf.
In reality, rumors have been flying about whom remaining presidential candidates Donald Trump, Bernie Sanders and Hillary Clinton would pick for their vice presidential running mates. We can only hope they consider Kimmel -- it'd definitely make the horror of this year's race much funnier.
Citations: Daily Mail