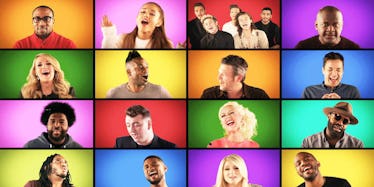 Jimmy Fallon And Stars Sing Amazing Cover Of 'We Are The Champions' (Video)
The New England Patriots won the big game last night and have been crowned world champions.
In order to celebrate their victory, Jimmy Fallon had some major music stars sing Queen's "We Are The Champions" following the game on "The Tonight Show Starring Jimmy Fallon."
Musical luminaries such as Carrie Underwood, Sam Smith, Meghan Trainor, Ariana Grande, One Direction, Blake Shelton and Usher joined Fallon and The Roots.
Yeah, it was pretty star-studded.
To fit all those stars on a screen at the same time, Fallon borrowed a page from "The Brady Bunch"  title sequence, which is fitting since the "Brady Bunch" did win the Super Bowl.
Check out the video up top.
Citations: Jimmy Fallon and Music Superstars Sing We Are The Champions (Just Jared)