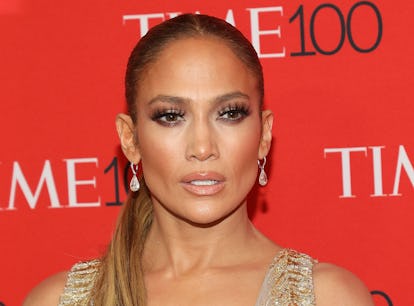 12 J.Lo Songs About Self-Worth, Because Loving Yourself Don't Cost A Thing
She's still Jenny from the block, and she's full of wisdom.
Taylor Hill/FilmMagic/Getty Images
Every artist takes a different approach to making music, and J. Lo has always had a very deliberate one. The pop star consistently makes music that inspires, elevates, and motivates. Whether it's a tune about moving on after a broken relationship, or about letting loose and living life to the fullest, there's a lesson to be learned in many of the New York native's songs. Perhaps, most importantly of all, she's taught us about self-love. These Jennifer Lopez songs about loving yourself are inspo at its finest.
If there's one thing to know about Lopez, it's that she's always stayed true to her roots. It's the reason she coined the nickname "Jenny from the block," and it's the reason so many fans admire her. Sure, she's one of the fiercest pop stars out there, but she's also hyper-focused on raising her children, living well, and finding true love. 2021 saw Lopez go through a major life transition after her breakup with Alex Rodriguez and reconciliation with Ben Affleck, but it was all taken in stride by the self-love queen. If you're in need of some uplifting tunage in your life, these J.Lo songs are a good place to start. After all, you're your own special someone.