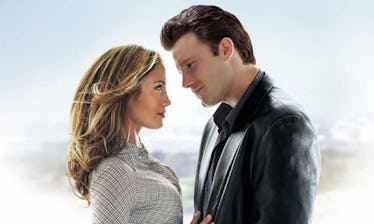 6 Times J. Lo & Ben Affleck's Gigli Earned Its "Worst Rom-Com Ever" Reputation
I watched it so you don't have to.
Sony Pictures
After nearly two decades apart, Ben Affleck and Jennifer Lopez are dating again. The lovebirds were a huge celebrity couple when they first got together in 2002, ushering in an era of celebrity couples who were bigger than the sum of their parts. But one aspect of Bennifer's paparazzi-perfect relationship stands apart from all else, namely because it was such a disaster: Gigli, the film that brought the couple together in the first place. You may be tempted to watch the movie and see why it's so despised, but there's no need. Instead, just check out the worst moments in J. Lo and Ben Affleck's Gigli. Trust me, you'll get the gist without having to endure the full 121 minutes of mess.
Warning: This post contains spoilers from a nearly 20-year-old film that you should not spend your money on. Unlike their current relationship, which fans can breathlessly follow with every social media post, Affleck and Lopez's first relationship played out not on Instagram or Twitter, but rather in the tabloids, on MTV and E!, and — most importantly — on the red carpet. The two actors met while filming Gigli in early 2002, and rumors swirled that their romance bloomed on set, partially driven by Lopez's subsequent divorce from her then-husband Cris Judd that followed. So all eyes were on Gigli when it premiered in 2003. The film — which told the story of Lopez and Affleck as a pair of gangsters forced to work together after their mutual boss has them kidnap a federal prosecutor's teenage brother — must have been seriously hot and steamy, right?
But despite featuring the hottest couple in Hollywood at the time, Gigli was a flop. That's largely because the movie is from a genre of film that doesn't really exist anymore. When most people think of movies that came out in 2003, they think of the classics: Lord of the Rings: The Return of the King, Love Actually, and Elf. But in the world before streaming, studios filled movie theaters with, well, a lot of filler. (Think of all those tiles on your Netflix queue that you scroll past, rolling your eyes and wondering how and why they got made.) Does anyone remember Ned Kelly? Bulletproof Monk? Le Divorce? All three starred significant celebrities of their time; all have disappeared into the garbage can of cultural memory.
Gigli would be a forgotten footnote in an IMDB list if it weren't for Bennifer. That's what it deserves. But for those still not convinced they should let the movie lie, let's run down the worst parts of Gigli:
Gigli is available via a subscription to STARZ or for streaming rental on YouTube, Apple TV, Google Play, and Vudu, but do yourself a favor and skip it.