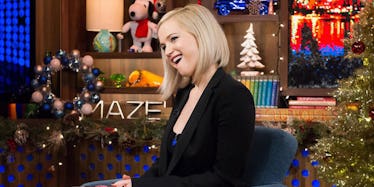 J Law's Bestie Asked Her On Live TV If Amy Schumer Was Her New BFF (Video)
There is a friend-triangle brewing among Jennifer Lawrence, Amy Schumer and Laura.
Jennifer Lawrence's best friend, Laura, is the oddest semi-celebrity out there. Like, she's known and kinda famous.
We all are aware of her existence and hear she is supposedly a riot, but that's all. She hasn't been in movies or anything, and almost solely exists in the public spotlight through her relationship to J Law (not Jude Law, the other one).
But, Laura HAS to be great! Jennifer Lawrence has the opportunity to become BFFs with Amy Schumer, but she is still declaring allegiance to Laura! That must be SOMEKINDAWOMAN. *Italian hand gestures*
Laura made a surprise phone appearance on Andy Cohen's "After Show," which I guess is technically not the same as "Watch What Happens: Live," to get Jennifer's official statement on whether she and Jennifer are BFFs or just CFs (Casual Fs). Tune in for J Law's answer.
WHO IS LAURA?! HOW DO WE GET TO KNOW HER?!
Citations: After Show: Jennifer's BFF Calls in LIVE! (Bravo)