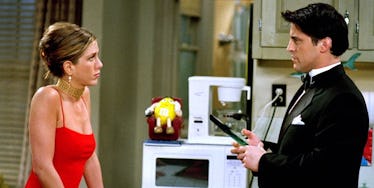 Something Crazy Happened In This 'Friends' Episode And No One Knew
Warner Bros. Television
Who is this mystery girl, and what happened to Rachel Green?!
While watching "Friends" on Netflix one night, Jordan D'Amico, a blogger at RecentlyHeard, noticed something odd at the beginning of "The One with the Mugging" episode.
In the episode, Rachel (played by Jennifer Aniston) and Joey (Matt LeBlanc) discuss Joey's acting audition while chatting with Monica (Courteney Cox) in her kitchen.
Rachel and Joey were standing together just like this. Please take note of the outfits they are wearing and memorize what Aniston's face looks like. Got it? Good.
The camera cut to Monica at her kitchen table and then cut back to Joey talking, but there was someone else next to Joey this time. SOMEONE THAT WAS NOT RACHEL GREEN.
This apparently happens in season nine, episode 15 around three minutes into the episode.
This rando was a stand-in for Aniston, and the producers probably assumed no one would notice.
Thank goodness for Netflix or else the world probably would have never known. Big shout out to Jordan for finding this.
No matter what, there's no one who can come close to replacing Rachel Green, even when she just stands there doing nothing. Jennifer Aniston, we got your back.
Citations: Did You Spot the Huge Mistake When This "Friends" Episode First Aired? (Cosmopolitan), THE ONE "FRIENDS" MISTAKE YOU PROBABLY NEVER NOTICED WILL MAKE YOU SEE THE SHOW COMPLETELY DIFFERENTLY (RecentlyHeard)