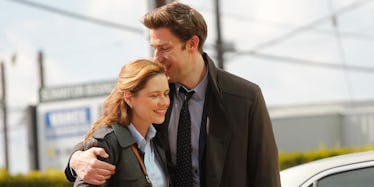 Jenna Fischer Said She Was 'In Love' With John Krasinski On 'The Office'
NBCUniversal Television
The first couple of Scranton was actually in love on the set of "The Office," and all of a sudden everything feels right in the world.
As much as we'd all like to believe our favorite characters on TV were actually couples in real life, more often than not, that's just not the case.
Mayim Bialik and Jim Parsons never dated. Jennifer Aniston and David Schwimmer were just friends in real life, and Paul Reiser and Helen Hunt were never actually "mad" about each other -- although, I'm sure Helen Hunt probably felt something. Nobody can resist walking sex pot Paul Reiser.
That concept may not have been true for John Krasinski and Jenna Fischer, though. Nope, Jim and Pam had something real!
While making an appearance on "Watch What Happens: Live" with Andy Cohen, Fischer took a phone call from a fan who asked about her on-screen chemistry with Krasinski.
Her response will make you happy cry like you've never happy cried before. She said,
There's a real part of me that is Pam and a real part of him that is Jim, and those parts of us were genuinely in love with one another. But in real life, we aren't totally Pam and totally Jim, so in real life, we're not the perfect match.
She continued,
He was like a type of spouse that I had for a long time. He was my partner. We will always be close.
AHHHHHH! YESSS!!! LOVE IS REAL, KINDA!
You can watch the interview below.
Citations: Jenna Fischer says she and John Krasinski were genuinely in love on The Office (EW)