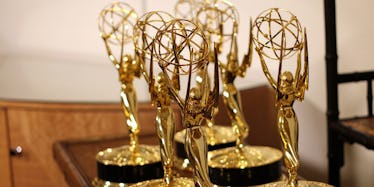 People On Twitter Are Losing It Because This Show Got Snubbed From The Emmy's
Shutterstock
If you've been at all paying attention to television this year, you've probably heard about "Jane the Virgin."
If you haven't, please turn to your nearest borrowed Netflix account and watch it immediately because it's a fantastic blend of smart comedy and heart-clenching drama.
Most critics seem to agree "Jane the Virgin" and its cast is generally excellent.
It's already won several awards, including a Golden Globe for actress Gina Rodriguez in its very first season last year.
So... where the heck are "Jane the Virgin's" and Gina Rodriguez's Emmy nominations?
The Emmy's are notorious for giving "Modern Family" way too much recognition and other great comedies not nearly enough. It seems the 68th annual Emmy Awards are no exception.
This year "Veep," "Transparent,""Black-ish," "Silicon Valley," "Unbreakable Kimmy Schmidt," "Master of None" and, yes, "Modern Family" got the comedy series nominations.
Julia Louis-Dreyfus ("Veep"), Amy Schumer ("Inside Amy Schumer"), Ellie Kemper ("Unbreakable Kimmy Schmidt"), Laurie Metcalf ("Getting On"), Tracee Ellis-Ross ("Black-ish"), and Lily Tomlin ("Grace and Frankie") got the comedy actress nomination.
No Jane or Gina in sight.
This is the second time the show has gotten the Emmy snub. Last year was maybe forgivable -- since I'm not sure if the Emmy's are even aware TV shows exist in their first season.
But this year? C'mon.
Despite the fact earlier in the year the show got multiple Critics Choice nominations and Gina got the Golden Globe again, the only slight Emmy nod was to Anthony Mendez for best narrator.
It's a well-deserved nomination, but this show deserves so much more. I know it. You know it. And Gina Rodriguez DEFINITELY knows it.
The 31-year-old actress can take comfort in knowing the internet is on her side.
Gina graciously congratulated the nominated folks on her Twitter.
So proud of these incredible woman for their Emmy noms! @violadavis @kerrywashington @TraceeEllisRoss @TherealTaraji so much talent! — Gina Rodriguez (@HereIsGina) July 14, 2016
Congrats to our incredible Narrator of #JaneTheVirgin@AnthonyVO for another Emmy nom! Back at it again with the Emmy noms! — Gina Rodriguez (@HereIsGina) July 14, 2016
But she also retweeted fans expressing their frustrations with the "Jane the Virgin" snub.
This is hilarious!!!! https://t.co/6h7vO2lIOC — Gina Rodriguez (@HereIsGina) July 14, 2016
And she liked many more tweets of fans who were outraged at the oversight.
I can't believe the amazing @HereIsGina didn't get nominated pic.twitter.com/RAFgKVLeEr — T'Challa #BLM (@sebuckstians) July 14, 2016
@HereIsGina I'm calling it now, 2017 is the year you get an #EmmyNomination (and win). Refer back to this tweet then — Believe. (@Just_Believe07) July 14, 2016
Ugh, whatever, Emmy's. I'm just going to rewatch all of "Jane the Virgin" and cry at Gina Rodriguez's incredibly nuanced acting.