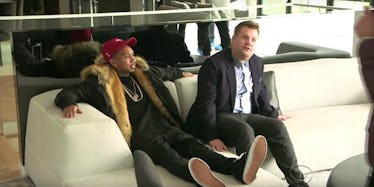 James Corden Gets Into Bed With Tyga While House Hunting In LA
James Corden and Tyga need a show.
We all love James Corden. He's a quirky comic with stage presence and a brilliantly British accent. We all also love Tyga. He's wealthy and once bought Kylie a really nice car.
Putting all that together, I can't think of a show that would dominate the airwaves more than one that literally just follows James Corden and Tyga around.
"James and Tyga" would be the best thing on TV, and you know it. You honestly wouldn't click on a link to some video that was just called "James Corden And Tyga Go To Chipotle?" Of course you would.
That would be a hilarious video.
Some Hollywood big shot, make this happen!