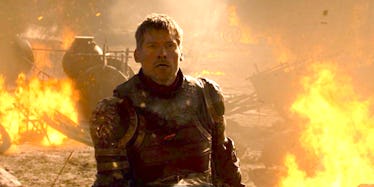 Jaime Lannister Says "It's Not Going To End Well" For Him After That 'GOT' Scene
HBO
Game of Thrones gave fans one of its most explosive episodes yet this Sunday — and I mean "explosive" literally — but in the wake of Westeros' epic battle, the fate of one main character remains uncertain. Spoiler alert: This post will discuss the details of Game of Thrones Season 7 Episode 4 "The Spoils of War." That final Jaime Lannister scene on Game of Thrones this week has fans worried about the Kingslayer's future, and statements made by his actor aren't exactly comforting.
After the new episode aired, Nikolaj Coster-Waldau told Entertainment Weekly it's not looking good for his character. In the final scene of the episode, Jaime charges at Daenerys Targaryen and her dragon Drogon after they've burned up all his troops, only to end up sinking in a nearby lake after avoiding a fiery blast from Drogon. The last moments show Jaime sinking in the waters, weighed down by his heavy armor. It's a moment that has fans guessing Jaime might wind up dead, and sadly, Coster-Waldau seems to be confirming those concerns.
Jaime is such an idiot that he thinks for a second, 'If I can do this, I can win the whole thing in a Hail Mary'... It's not going to end well for Jaime Lannister, I can't imagine.
So wait — is this really the end for Jaime!? It seems kind of early... like, doesn't he still have stuff left to do? For instance, he's been at the center of a pretty popular fan theory about who will kill Cersei Lannister for quite some time now. If Jaime really does die now, fans will need to go back to the drawing board to try to find a better candidate for the valonqar prophecy.
But even if this does turn out to be Jaime's end, at least it was in an epic scene rich in parallels. Fans pointed out Jaime's fall into the water looked very similar to Bran's fall from the tower in the first episode. It's also the second time Jaime has put his life on the line to attack a power-hungry Targaryen ruler.
We'll just have to wait and see if Jaime manages to survive next Sunday!