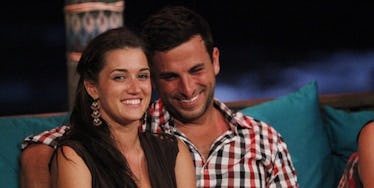 Jade From 'The Bachelor' Shows Off Her Baby Bump At Carly & Evan's Wedding On 'BIP'
Rick Rowell/ABC
On the heels of a trip down the aisle, Bachelor in Paradise fans got a second treat on the second night of the two-part debut: a peek at Jade and Tanner's soon-to-be baby! After catching a glimpse of the Paradise alumni, fans are rightly curious: When is Jade due? The Bachelor in Paradise couple will be parents sooner than you think!
Since meeting and falling in love on Season 2 of Bachelor in Paradise, Jade and Tanner have since become Bachelor Nation fan favorites, especially after walking down the aisle together in 2016. According to an Instagram post from the expectant mom, Jade shared that she's due (with a baby girl, to boot!) September 12, which means that their little one will be gracing a whole new generation of Bachelor fans in just a few short weeks.
She posted:
"It seems like everyone keeps asking about my due date, I say baby will come when baby wants!" she wrote in the post caption, adding: "Although, please stay in there until at least 39 weeks, baby. Right now I'm due September 12th, althoughhhh I've heard first time mamas tend to go past their due date. What's your guess on when she'll be here??"
I've never been pregnant before (or had a baby), but I totally get the fear that Jade must feel when thinking about going past her due date, but it sounds like the Bachelor twosome was definitely ready for kids immediately after tying the knot. In an interview with People a year after their Valentine's Day nuptials, Jade told the magazine of having kids with her new husband: "I feel like I'm ready for that. That's something that was really important to me, was to find someone who was ready to have a family, and Tanner is at the same stage too so that was definitely very attractive about him."
Here's to the family of three to be!