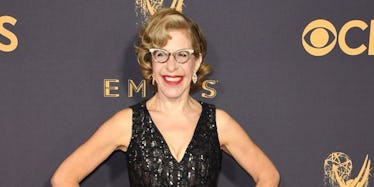 This Actress' Hilarious Reaction To Losing An Emmy To Laura Dern Is Everything
MARK RALSTON/AFP/Getty Images
Generally, when actors and actresses don't win an award they were nominated for, most adopt a perfectly polite, calm, gracious loser face. But we all know they are seething on the inside. They're just doing their jobs, after all — acting! But when actress Jackie Hoffman lost at the 69th Primetime Emmy Awards this Sunday night, she did not put on her gracious loser face at all. No, Jackie Hoffman's reaction to losing an Emmy was a much more sincere, much more hilarious reaction. Acting vérité, if you will.
For those who don't know, Jackie Hoffman is a 56-year-old actress and stand-up comedian. Emphasis on the "stand-up comedian" part of her bio here, because it's important to know that Hoffman was undoubtedly 100 percent joking when she put on her sore loser act on Sunday night. When actor Riz Ahmed presented the Emmy for Outstanding Supporting Actress in a Limited Series or a Movie to Laura Dern for her role as Renata Klein in Big Little Lies, Hoffman — who was nominated for her role as Mamacita in the FX limited series Feud: Bette and Joan — visibly and angrily shouted "Damn it! Damn it!" for all the CBS cameras and viewers at home to see.
Again, in case I wasn't clear, this was obviously a joke on Hoffman's part and a very funny one at that. Alongside Hoffman in the category of Outstanding Supporting Actress in a Limited Series was Hoffman's Feud: Bette and Joan co-star, Judy Davis; Regina King for her role in the ABC show American Crime; Michelle Pfeiffer for her role in the HBO series The Wizard of Lies; Shailene Woodley for her role as Jane in the HBO show Big Little Lies;  and of course, Laura Dern for her role as Renata in Big Little Lies. Dern had always been the favorite in that category, especially after a big night of wins for Big Little Lies already, so it's likely Hoffman had expected to lose going in.
Which is why I feel fairly certain that not only was that Emmy reaction a joke, but Hoffman's Twitter tirade later that night was also a joke. Again, it's important to read all of the following tweets in the context of stand-up comedy, people. First Hoffman tweeted,
Laura Dern had famous parents. Forgive me for being from real people #elitism #Emmys2017
It's true that 50-year-old actress Laura Dern did have famous parents — actress Diane Ladd and actor Bruce Dern. However, after a 30-year-long lucrative career, most agree that Dern has earned her spot in Hollywood. Laura Dern is pretty much the last person you could accuse of elitism in Hollywood, as I'm sure Hoffman knows. And if that's not enough to convince you Hoffman was sarcastic, her next tweet will. Hoffman then tweeted,
I hear that Laura Dern runs a child porn ring #soreloser Emmys2017
Then, after Ann Dowd won her Emmy for Outstanding Supporting Actress in a Drama Series, Hoffman tweeted,
Ok Ann Dowd went through this 7 times before she won so I feel better now. I love her
Then, again building on her sore loser bit, Hoffman tweeted the most ridiculous Dern accusation of all. She wrote,
I hear that Laura Dern looted art from Nazi victims
Hey, you know that Laura Dern does love the arts!
And then, for her final tweet in this fake Twitter tirade saga, Hoffman was forced to clarify she was not being serious, for those who had been confused. Hoffman wrote,
I hear the media actually taking my reaction seriously? Are you kidding me?
That's just how good of an actress you are, Jackie Hoffman! Maybe someone should give her an Emmy for this performance.