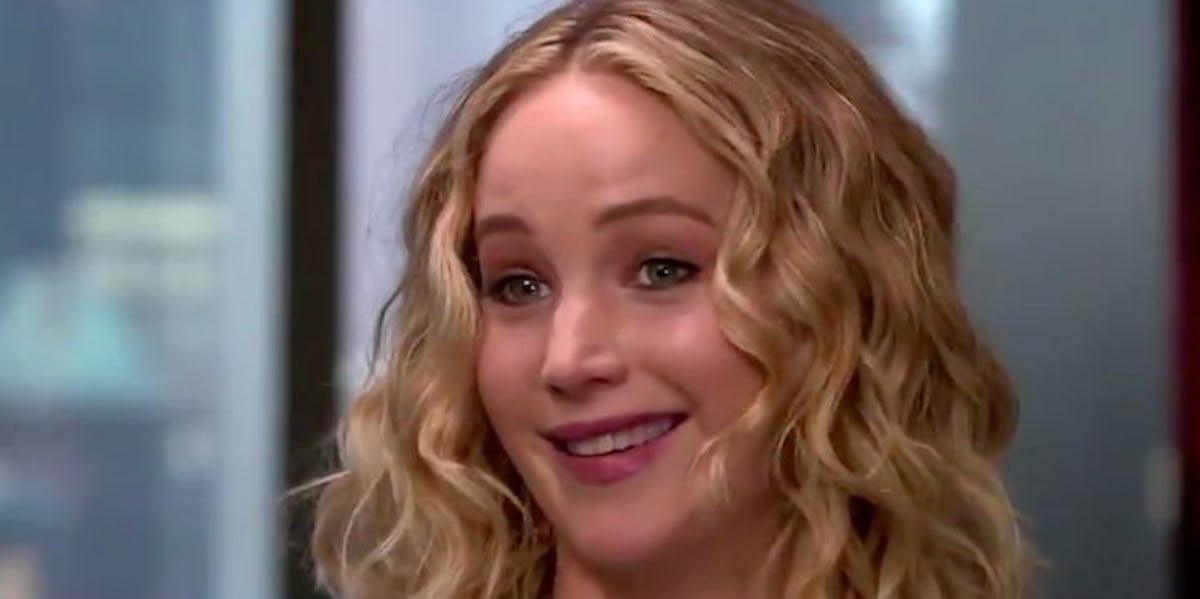 J.Law Could've Played Serena On 'Gossip Girl' & Our Heads Are Spinning
NBC/YouTube
"Spotted at Grand Central, bags in hand... future Oscar winner Jennifer Lawrence." OK, that's not how the narration of the Gossip Girl pilot went exactly, but now we can't stop thinking about it. According to an interview with Vulture, Jennifer Lawrence auditioned for Gossip Girl once upon a time, for the role of one Serena van der Woodsen. Whoa. Blake Lively played the role to shiny blonde perfection, but can you even imagine it?
In an upcoming piece for Vulture surrounding Gossip Girl's tenth anniversary, Executive Producer Josh Schwartz revealed,
We did not realize this at the time, but Jennifer Lawrence really wanted to play Serena and auditioned. This story came to us secondhand, but we were told she definitely auditioned and was bummed to not get it.
Didn't get it? Does Hollywood queen and actress extraordinaire Jennifer Lawrence even have to audition anymore? My, what a difference 10 years makes. And where is that tape?
"We can't remember if we saw it or not. It was ten years ago, and she would've been how old, 15?" Schwartz went on to explain.
It's hard to even consider another actress playing the now-iconic role, but if it has to be anyone, Jennifer Lawrence would definitely do.
Mind blown. Next you're going to tell us that Rumer Willis was the initial pitch for Blair Waldorf. Wait, what? That's totally true. Another fun fact? Ashely Olsen was apparently the original choice for Serena. Wow. The Upper East Side as we know it on TV could have been so, so different...
Well, casting probably knew what they were doing because the show was a massive hit and it still resonates today. Plus, everyone we just mentioned is doing just fine now. Who knows where Jennifer Lawrence would be if she slipped on Serena's Louboutins? Gossip Girl was in its fourth season when 2010's Winter's Bone came up, a film that subsequently earned the then relatively unknown performer her very first Oscar nomination. She's since been nominated another three times and picked up a win for Silver Linings Playbook in 2013. And she's already getting some Academy Award buzz for her latest role in Mother!, which hits theaters Sept. 15.
David Rapaport, Gossip Girl's casting director, has opened up previously about how he knew Blake Lively would be the perfect "front-runner" for the coveted job of portraying socialite Serena. He explained to Buzzfeed in 2015,
Blake Lively was literally the only person I could think of for Serena. I had seen her in Accepted and at that time, there were no Lena Dunhams or Zooey Deschanels — it was all about beauty and glamour, but being approachable and Blake was the ultimate It Girl.
He also revealed that they tested Arrow's Katie Cassidy for the role and that the note they got back from Lively's screen test questioned her believability as a New Yorker."We did a screen test with her and the note we got back was that she was 'sunny California' and they said, 'I don't think we'll buy her as an Upper East Side debutante.'" he said. David apparently knew people would, and we're so glad that he did.
Blake Lively has certainly managed to sustain a very successful career over the years. She starred in The Shallows and Cafe Society last year, and will appear in Paul Feig's triller A Simple Favor alongside Anna Kendrick in 2018. She also recently told Vanity Fair that she's "open" to the idea of a Gossip Girl revival, under certain circumstances. Please don't tease us.
Blake Lively as Serena was a match made in casting heaven. Although we are still curious as to how Jennifer Lawrence could have made the role her own...