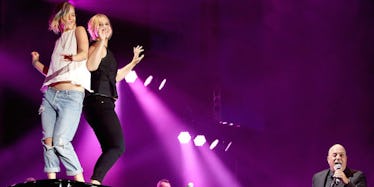 J Law And Amy Schumer Dancing On Stage With Billy Joel Is Everything (Video)
Amy Schumer and Jennifer Lawrence are living the (American) dream.
The funny friends — who, recently, became the very definition of #SquadGoals — made a surprise appearance at Billy Joel's concert last night in Chicago, hopping on stage to dance along to the musician's performance of "Uptown Girl."
Along with several other pals, the ladies danced in a chorus line, with Schumer and Lawrence breaking to do the twist atop Joel's piano.
The crowd, unsurprisingly, loved it, and social media was flooded with photos and videos of the impromptu performance.
Lawrence and Schumer announced earlier this week they're working on a movie script together and plan to play sisters in the film. So as far as we can tell, this is only the beginning of (what's sure to be) a slew of silly antics from the dynamic duo.
Check out videos from the show below.
Jennifer Lawrence and Amy Schumer might just be...
The funn(i)est friends...
...to ever exist.
Citations: Wait Jennifer Lawrence and Amy Schumer danced onstage together at a Billy Joel concert (Mashable), Watch J Law and Amy Schumer Dance Barefoot on Billy Joels Piano (TIME)