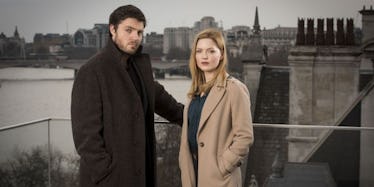 J.K. Rowling's BBC Series Is Getting A Season 2, Although It Has Nothing To Do With Wizards
BBC
To most fans, J.K. Rowling is the writer of wizards and witches, a fairy tale world where Hogwarts will always be our home. But while we as fans may have boxed her in, she as a writer was looking for an escape path. She took on a new identity, "Robert Galbraith," and started pitching adult mystery novels. The series was not only picked up and published, but so successful the BBC optioned it last year. And now they've renewed it before it even airs in the US. J.K. Rowling's Strike Season 2 is a go!
But wait, Rowling seriously has a series that are not children's books? Yes, she does. You can find them in your local book shop, or online on Amazon for your Kindle under her pen name, Robert Galbraith. She claims she wanted to see if she could get the book fully published before anyone figured out it was her, but sadly that was not to be. The most famous author in the world just doesn't get that luxury of full reinvention.
These are not mysteries set in any fantasy land, or wizarding world either. They're set in London, on Denmark street, and almost all the locations contained within are very real, and you can go visit at any time.
The title of the TV series "Strike" refers to "Cormoran Strike." He's a private detective, who is badly in need of a secretary, or some sort of human to come around and organize him. When we first meet him in Galbraith's opening novel The Cuckoo's Calling, that organizer who has just arrived is named Robin. She's a temp, who finds herself so fascinated by both her employer, and his business, that she gets sucked in. (Despite the novels being named after him, make no mistake, she is the star of the series.)
The first season, which just finished a five episode run on the BBC, covers Galbraith's first two novels, both Cuckoo's Calling (which is three episodes long) and The Silkworm (which is two episodes.) Both are planned to run on HBO either later this year or the beginning of 2018. It stars Tom Burke (The Musketeers, War and Peace) as Cormoran Strike, and Holliday Grainger (The Borgias, Great Expectations) as Robin.
Whether American audiences are ready for a gritty, real world Rowling is still up for debate, but in the UK, it went over like gangbusters. According to the press release:
British actors Tom Burke as Cormoran Strike and Holliday Grainger as Robin Ellacott are set to return for Strike - Career of Evil, the third story from the major new TV series for BBC One, The Strike Series, based on J.K. Rowling's best-selling crime novels written under the pseudonym Robert Galbraith. Strike - The Cuckoo's Calling and Strike - The Silkworm aired from 26 August and received wide-spread critical praise from both the press and audiences. Strike - Career of Evil is the third installment to the series and will air later in 2018.
Career of Evil is expected to only run two episodes. With Rowling delayed on the fourth installment -- she had been pumping them out every fall like clockwork, but last year she got sidetracked for some reason-- it's not clear if the hope is for her to get the next book out in the next couple of months to add to that 2018 run or not.
If the BBC are hoping for that, they're at least in better shape than HBO was for Game of Thrones. As she showed with the Harry Potter series, she can keep ahead of a adaptation that's catching up behind her, and unlike Martin, Rowling is very good at being under pressure for deadlines.
No word yet on when the show will air on HBO over here, but hopefully, we'll hear something soon.