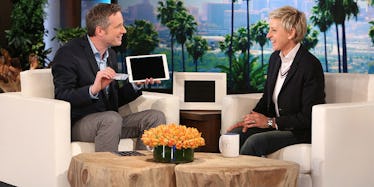 This Magician Totally Blew Ellen's Mind With His Amazing iPad Tricks (Video)
Even in the age of technology, a little magic trick can still awe us all.
Earlier this week, Ellen DeGeneres hosted Simon Pierro, "The iPad Magician," on her show.
With slight of hand and, of course, a little tech savviness, Pierro can drink a coke from across an ocean and print photos instantly.
Just imagine all the bewildered grandparents who will be complaining to Apple Geniuses about the missing features on their iPads after seeing Pierro's tricks.