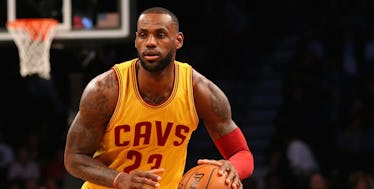 This Instagram Model Says LeBron James Casually Tried To Slide Into Her DMs
Anthony Gruppuso/Reuters/USA TODAY Sports
Men are so predictable.
On Monday, Instagram model Rachel Bush — famous, mostly, for her Kardashian-esque booty — tweeted a screenshot apparently snatched from her DM inbox.
The pic shows a "hey, what's up?" message from (married man) LeBron James, along with Bush's LOL-worthy caption,
Haha Wut.
Bush, who is dating Cleveland Browns safety Jordan Proyer, is apparently quite use to athletes hitting on her (last week, it was Patriots player Gronk). Unfortunately for them, it seems she only has eyes for Proyer. Lucky man.
Sorry, LeBron. And good luck explaining this one to your wife.
See the screenshot (and Rachel Bush, who is, admittedly, totally hot) below.
When you kno the warriors boutta make you 2-7 in the finals..... @kingjames pic.twitter.com/ieV1AKPfLV — Ryan Honrada (@Rhonradaaa8) April 12, 2016
Citations: Instagram Model Rachel Bush Screenshots LeBron James Trying To Slide In Her DMs (BroBible)