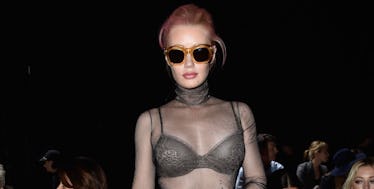 Iggy Azalea's New 'Team' Music Video Will Get You Hyped For The Weekend
Getty Images
It's FRIDAYYYYYYYY. Thank the Lord.
To kick off the weekend, Iggy Azalea just released a new music video for her song "Team."
Yup, there's nothing better than waking up on a Friday morning to some new tunes you can blast all night.
The music video is sick, by the way. Iggy isn't in it herself, but her team of dancers will totally blow you away.
The song is all about how Iggy doesn't need anyone but herself. Sorry, Taylor, I guess your squad isn't welcome here.
If this week was rough for you and Saturday still feels like a long time away, check out Iggy's new song to pump you up. I promise it'll do the trick.
Check it out in the video above!
Citations: Iggy Azalea "Team" (Mashable)