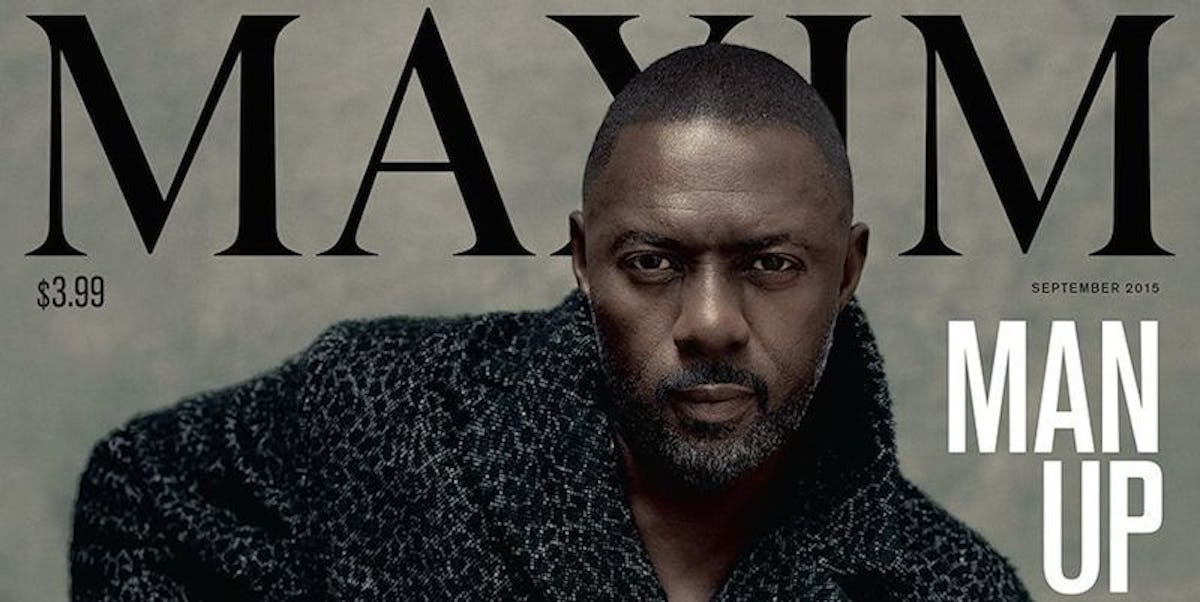 Idris Elba Crushes His Role As First Male With A Solo Cover Of Maxim
When Kate Lanphear took over as editor-in-chief at Maxim, she had an ambitious goal: attract female readers.
A historically men's magazine on par with Playboy and GQ, Maxim rarely addressed the fairer sex in any real capacity.
When women were featured in the magazine, they were naked on the cover or showcased in salacious spreads intended only to satisfy the male gaze.
That's all changing.
Maxim's September issue — the most important issue of the year — doesn't feature a busty blonde or bombshell brunette on the cover. For the first time, a male -- Idris Elba, to be specific -- takes the coveted role.
Why it's Elba remains unclear, but I'd venture to guess it has something to do with the magazine's description of "The Wire" actor as an "all-around badass."
He certainly looks the part. In a black leopard Calvin Klein Collection coat and little else, Elba appears every bit the "cool guy," a draw for both male and potential female readers.
The cover announces additional features with prominent male figures like A$AP Rocky and Fetty Wap.
While it may not seem like much -- men front major magazines all the time -- to put a black male on the cover of a magazine defined by its male readership, this is a huge step in transcending gender (and racial) boundaries.
Few magazines have ever attempted to equalize readership in such a way; there are men's magazines and women's magazines, but rarely are they shared.
It'll be interesting to see how this move changes Maxim's readership and content, and how the rest of the magazine industry responds.
Citations: Idris Elba Makes Men's History, Covers Maxim (The Cut)