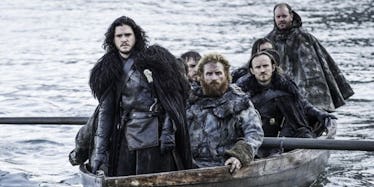 Hulu Will Stream HBO Programming Because We Need More Ways To Watch 'GOT'
HBO
Game of Thrones Season 7 is only days away. For those who are looking for ways to legally watch HBO's most popular program when it returns, the options just grew again. Hulu announced today that as of this morning, they will carry HBO programming.
And yes, that includes Game of Thrones. Not just the earlier season, but the upcoming Season 7 as well.
According to Deadline, Tim Connolly Head of Distribution and Partnerships at Hulu confirmed the current seasons of HBO's programming will be included.
By combining HBO's iconic programming with our world class user experience and deep content offering, Hulu is giving viewers easy and highly personalized access to the very best of television. With this important new partnership, fans can now watch 'Game of Thrones' live every Sunday.
If you sign up right now, the first month will be free. After that, it will cost $14.99 to add to your current Hulu plan. Not only will East and West coast live feeds be available to Hulu subscribers, but subscribing through Hulu will also give viewers the ability to log in to the HBO Now app as well using their Hulu credentials.
Note that subscribing directly to HBO's standalone streaming service, HBO Now, costs the same amount. But for those who don't want to subscribe to endless standalone services, this makes bundling it in easier if you're already a Hulu subscriber.
But saving subscribers money isn't really the point of the exercise. Game of Thrones, as we all know, has had a huge piracy problem over the years, culminating with them smashing the record in 2015 with the leak of the first four episodes of Season 5. Since then, HBO has worked tirelessly to find as many ways to offer cord cutters legal ways to watch their programming, especially right around the time Game of Thrones airs.
Hulu already had a surge of subscribers this year on the back of their first major hit show The Handmaid's Tale. Once viewers are done in Gilead, they can head right over to Westeros and get caught up for the new season.
Game of Thrones returns July 16, at 9 p.m. ET on HBO and HBO Now.