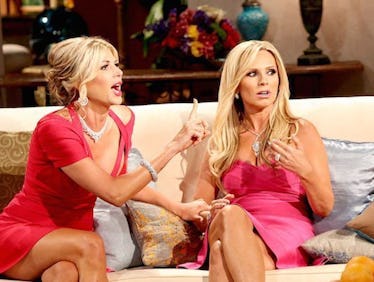 How The 'Real Housewives' Franchise Is The Definition Of Voyeurism
Bravo
Like any addict, I can admit I have a problem.
My problem is being sucked into the "reality" of the various iterations of Bravo's mega franchise, "The Real Housewives."
I tune in every week (sometimes more than once a week, depending on how many seasons are airing at a time) in hopes of escaping my own reality, even if just for an hour.
"The Real Housewives" franchise started back in 2006, before America's financial system completely went off the rails.
The "housewives" of Orange County invited us into their homes and lives, which were extravagant, luxurious and the definition of #firstworldproblems.
During that instance, the idea of voyeurism was so significant in the scope of American television.
Yes, there were numerous reality shows featuring people who lived together or competed together for a prize, but never had there really been a program that brought average American viewers into the homes of the wealthy.
Growing up in Boca Raton, you'd think I'd know all about the rich, the wealthy and the lap of luxury.
That was all right and great, except the people I saw on television were complete strangers who had no idea what their lives would become when they invited Bravo into their homes.
After the success of the OC Housewives, we were treated to other locales, like New York City, Atlanta, New Jersey, Washington, DC, Beverly Hills and Miami.
In each of these locations, Bravo chose a handful of women to be the stars of the series and showcase the ridiculousness that was their lives.
As the American public became fascinated with the lives of our favorite housewives (#teamNeNe), the women and their families started to show real signs of humanity.
Gone was the façade of perfection, happiness and wealth, and in crept strife, bankruptcy, divorce, jail and everything else between.
Every season, I tuned in to see these women (and their husbands, who often steal the show) continue live in their "realities," which had heightened due to their popularity.
We were all sucked in as our housewives went on extravagant vacations (furnished by Bravo's sponsors) we could only dream to go on ourselves. They dined at the best places, and their kids were spoiled beyond belief (some even going further and spoiling their pets).
The women and, more specifically, the families featured on the show had to always be "on" for the cameras, which followed them around for months at time, taping their every move, every conversation, every up and every down.
Gossip magazines followed along as housewife after housewife got divorced (at least a quarter to a third of each locale is divorced), filed for bankruptcy or dealt with a lawsuit.
Their lives had turned upside down and Andy Cohen took us all for a ride.
The machine that is Andy Cohen's "Real Housewives" franchise continues to find women who are volatile, easily excited and brash, and forces them together for this sick social experiment called reality television.
Bravo has proved, for the most part, all of these women are disposable.
The network often swaps out cast members either because they're divas (i.e. Aviva Drescher), they're just flat out boring (i.e. Joyce Giraud) or because the women have just had enough (the list for this is endless).
To the viewer, it doesn't matter what women are featured because we know, regardless of the chemistry among the cast, there will always be enough manufactured drama to get us to tune in each week.
These women fight over the most petty and nonsensical things, like dinner parties and etiquette, which woman is not sleeping with a man for a luxury car and which set of women is against the other.
They bring the viewers back to their adolescence with their childish antics, and we eat it up each and every week.
When there is a lull in "Real Housewives" programming, we find ourselves lost because we don't know what is happening in the cast members' lives (unless we follow the drama on social media).
These cougars and MILFs are cattier than a bunch of high school girls, but we can't help but get sucked into the melodrama.
Essentially, Bravo has gotten the American public so addicted to its menagerie that we're buying their books, their drinks, their clothing and their absolute nonsense.
We fall into this bad habit every time we say we're done, and it's because of our need for drama that Andy Cohen was able to build an empire.
Hats off to you, Andy Cohen, for being America's favorite peddler.