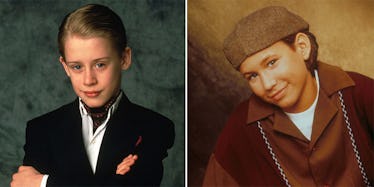 7 'Hot' Guys From The '90s You'd Probably Never Want To Date Now
REX/Shutterstock
The '90s were hands down the best decade.  OK, I'm a little biased because I'm a '90s baby, but there's no denying some of the most attractive actors came from that decade.
I'm talking Hottie McHottersons like Erik Von Detten (I was waiting to get with him at some point, and BTW, he is still tasty AF) and Matthew Lawrence (I first fell in love with him in "Mrs. Doubtfire," when he was just a blossoming lad).
But then, you have all the dudes who were really hot, but aren't so much anymore because they grew up. (Ugh, why does growing up and getting uglier have to be a part of life?) In my mind, though, these once-hotties will always stay the hot teen heartthrobs they once were.
Like, when I tell my children about them, I'll show them pictures of Disney stars I still have saved as my computer wallpaper that I took with my very first flip phone, not the washed-up, middle-aged pictures of them. Those pictures are VINTAGE.
So, let's take a look at the '90s stars I wanted to date way back in the day when I was 9 years old and they were barely legal, who are no longer all that:
1. A.J. Trauth
Do you guys remember A.J. Trauth from "Even Stevens?" He played Shia LaBeouf's BFF, Twitty. He had that whole "Brink!" surfer guy look going on:
Shia is hot nowadays, but A.J. is no longer the mushroom-cut hottie he once was:
WTF! He totally changed his look. He's still hot, but I was really feelin' the California boy look. He may be your cup of tea, but I will no longer be saying, "Holla at me, A.J."
2. Will Friedle
"Boy Meets World" was one of my favorite shows. I mostly watched it because of Matthew Lawrence and his hot brother, Eric Matthews, who was played by Will Friedle. I ALWAYS had a crush on Eric:
Now, he looks like this:
Hanging with some old friends on the set of #GirlMeetsWorld today. So many years @RiderStrong @TheAnthonyQuinn! pic.twitter.com/KIHqBiCdo4 — Will Friedle (@willfriedle) June 23, 2015
I'm not exactly swooning over him. I'd definitely friend-zone him.
3. Freddie Prinze Jr.
Freddie was probably one of the biggest heartthrobs of the '90s. My heart melted when he married Sarah Michelle Gellar because I was low-key holding out for him:
Freddie's finally gotten old and gray:
Aw, he looks like such a nice guy, though. I still love ya, Freddie.
4. Jonathan Taylor Thomas
AKA Randy Taylor on "Home Improvement," JTT was SUCH a cutie. He had that whole Nick Carter look going on. I wanted him to be my first boyfriend:
Now, he looks like this:
Eh, I guess he's still bangable, in a Brooklyn neighborhood hipster kind of way. That's not really my thing, though.
5. Malcolm-Jamal Warner
As Theo Huxtable on "The Cosby Show," Theo was the best, mostly because he was bad at math, but a total player with the ladies. And I can't resist a player:
He's definitely aged since them:
Oh well. He still looks pretty happy, don't you think?
6. Matt LeBlanc
JOEY. For me, it was always a tie between him and Chandler. But, his charm always won me over:
He's kind of a silver fox now:
Sigh. I'll always remember him as the brown-haired, brown-eyed Italian hunk who had me at first "How you doin'?"
7. Macaulay Culkin
Macaulay was my very first blond-haired crush. (Are you seeing a theme here? Because I am.) I firmly believe he is the reason I still love blond boys.
Also, how could you not fall in love with him after seeing all the smart tricks he pulled off when he had a house all to himself in "Home Alone?" He was the greatest:
But then, he grew up into this weird, ghost-like creature with greasy hair:
And I can't really say anything more than that.
RIP, '90s loves of my life. Thank you for gracing us with your presence.