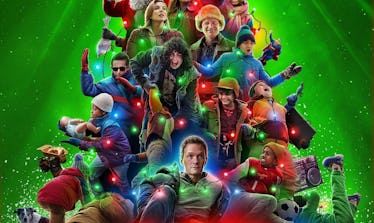 7 Holiday Movies On HBO Max To Watch For Ultimate Cheer
HBO Max
Many people think HBO Max only has the TV shows and movies that air on HBO. It's an easy mistake to make due to the streamer's name. But the "Max" part of the streamer's title does some heavy lifting; it refers to all of the Warner Media holdings, including the Warner Bros. Pictures library and all of Turner Classic Movies. That means there are tons of holiday-themed options for viewers to discover. Even better, holiday movies on HBO Max are gathered under their own subgenre for easy searching.
HBO Max has brought in a slew of high-profile Warner Bros. Pictures releases over the past several months, making it a go-to for fans of DC films and major blockbuster releases. But the movie library available on HBO Max is extensive, stretching back decades. Super old-school classics like A Christmas Carol, Holiday Affair, and Meet Me In St. Louis are all available to subscribers, along with more modern holiday films, like the original eight Harry Potter movies (which, yes, totally count as holiday fare).
For those looking for some of the best holiday classics to watch (or to rewatch), HBO Max has you covered. Here's a list of some of the most exciting holiday classics collected on HBO Max for the season.
Viewers can find HBO Max's full lineup of holiday titles streaming this year on its Holiday Movies page.
This article was originally published on