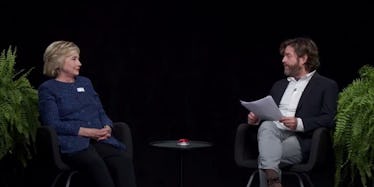 Hillary Clinton Endured A Zach Galifianakis Roasting On 'Between Two Ferns'
Funny Or Die
If you've never visited Funny Or Die to watch "Between Two Ferns with Zach Galifianakis," well, I don't really know what you're doing with your life.
The show is beyond hilarious.
In the most recent installment of "Between Two Ferns," Galifianakis had democratic presidential nominee Hillary Clinton on as his guest, and let me tell you, it was fucking awesome.
I'm not much for politics, although it's becoming increasingly hard to be on Twitter and not see something about the lunacy of Donald Trump, but if Zach Galifianakis moderated the upcoming presidential debate between Hillary Clinton and Donald Trump, you bet your ass I'd be glued to that shit.
As you can see in the video above, Hillary and Galifianakis talked about a variety of topics, including the one and only Donald Trump.
The "Between Two Ferns" host started off the segment by asking,
Are you excited to be the first girl president?
To which Hillary Clinton replied,
Being president would be such an extraordinary honor and responsibility. Being the first woman elected president, and what that would mean for our country, that's pretty special.
Following that opening exchange, things started to go, well, a little off the rails.
Galifianakis asked,
What happens if you become pregnant? Are we going to be stuck with Tim Kaine for nine months? How does this work?
Hillary, being the good sport she is, answered,
I could send you some pamphlets that might help you understand...
At this point in the interview, I was already laughing out loud while my co-workers stared at me. Soon enough, the topic of conversation turned to Donald Trump, with Galifianakis saying,
When you see how well it works for Donald Trump, do you ever think to yourself, 'Oh, maybe I should be more racist?'
All Hillary Clinton could do while trying to hold back the laughter was shake her head, which I'm sure you'll be doing after watching the clip above in full.
Check out the entire video if you're ready to start your Thursday morning off with a bang.
Citations: Between Two Ferns With Zach Galifianakis: Hillary Clinton (Funny Or Die)