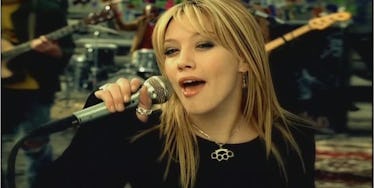 12 Reasons To Be Thankful For Hilary Duff On Her 28th Birthday
If there's one thing you should know, it's that September 24, 2015 is a very special day. This date marks the 28th anniversary of the birth of Hilary Duff, our saving grace.
It was on this day heaven sent down a precious, beautiful muse to brighten our world with her angelic voice and talent. It was on this day baby doves learned to fly, Moses parted the red sea (probably) and a thousand newborn babies gazed into the light and whispered, "there is a God, and her name is Hilary."
In honor of this momentous occasion, let's look back at some of the most wonderful reasons to be grateful for Hilary Duff:
1. She was there to help you through your awkward tween years.
I'm sure it feels like yesterday you were a tween chilling in your bedroom, staring at the J-14 poster of Lizzie McGuire's face on your wall. That girl was there to help you survive junior high. Would you have made it out alive without her? Probably not.
 2. She was a style goddess and gave you great fashion advice.
When Hilary played Lizzie, she killed it with her style. You know your 13-year-old self had her clothing in mind every time you hit up Limited Too after school. Let's be real though, could anyone else pull off this fabulous look the way Hil did? LOL no -- trust me, I've tried.
3. She taught you how to let go of the past because it's so yesterday.
It's impossible to listen to her song, "So Yesterday" and not connect to it deeply. The lyrics are so empowering and emotional. It's crazy how Hilary literally knows us all better than we know ourselves.
4. She always understood what you were going through.
Hilary taught us that it's OK to cry sometimes and be sad, but that we are all strong enough to get through anything. It's honestly impossible to ever look at rain the same way again after watching her music video for "Come Clean." That sh*t was so deep.
Hilary, thanks for being there for us and taking us back to the beginning.
5. She taught us to take a chance because, why not?
Yeah, that's right. Hilary helped empower us to be bold. It's OK to be crazy and live life on the edge. You want to wear that gold dress? THEN JUST DO IT. LISTEN TO HILARY.
6. She helped celebrate big milestones in your life with songs that fit every occasion.
Oh hell yes, I know you remember her song "Sweet Sixteen" and how it was about spreading your goddamn wings. This song was there to guide you as you transitioned into adulthood. Sixteen is a BIG YEAR. Thank God Hilary was there to help celebrate.
7. She pretty much blessed you with the greatest soundtrack known to mankind.
I have no words. All I know is that this album was a creative masterpiece. It was a life-changing experience to listen to those songs. HILARY, WE LOVE YOU. THANK YOU FOR GIVING US THIS TREASURE.
8. OK, and this one.
OMG, you know this soundtrack shaped your entire adolescence. And that movie was just so inspiring. It showed us how important it is to follow our dreams and never to believe any boy named Paolo because he is a liar. That's advice I will hold close to my heart forever.
9. She related to your first real tweenage heartbreak.
Do you remember that moment when Ronnie the paper boy broke Lizzie's heart? You probably had tears in your eyes for her. It was so sad. But Lizzie got through it and showed us that we too, can get through our first heartbreak. Ronnie isn't worth it. We hate you, Ronnie.
10. She showed you how to be the absolute best friend ever.
Hilary is just the greatest actress. How could you not fall in love with her relationship with Miranda on "Lizzie McGuire"? They were the cutest BFFs ever and were always there for each other. We know where to find you, Lizzie. We know.
11. She understood your family problems better than anyone.
Fighting with your family? Annoyed with your sibling? Yeah, Lizzie gets it. She knows what it's like when you need some space from your family. She was there to remind us that it's OK to have your disagreements, but always know your family loves you. AW, Lizzie.
12. She showed you what dreams are made of. WHAT MORE COULD YOU POSSIBLY NEED?
This moment right here just sums it up. Hilary, whether you were playing Lizzie McGuire or just being yourself, you have changed our lives for the better. Thank you for everything you have given us over the last 28 years.
HAPPY BIRTHDAY BB, we love you more than you know.