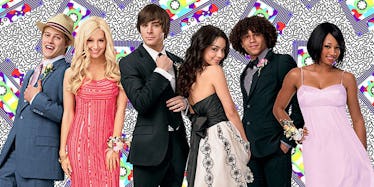 'High School Musical' Got The 'Bad Lip Reading' Treatment And It's Glorious
Shutterstock/Disney-ABC Domestic Television
I have no idea what took them so long, but it's finally here: the "Bad Lip Reading" of "High School Musical."
If you're unaware of the "Bad Lip Reading" YouTube channel, you are about to have so much joy brought to your life.
Basically, this guy just dubs his voice over famous movie scenes, political debates, professional sports events, etc., and it's super weird and super hilarious.
My personal favorite will always be the "Twilight: Edward and Bella," but this new one of Troy and Gabriella from "High School Musical" is a close second.
"Bad Lip Reading" took the opening scene of movie — New Year's Eve, when Troy and Gabriella first meet in a forced karaoke duet — and made it so much worse better. The full episode will air on Disney XD on July 11 at 11 am.
Much of the original "Start of Something New" is replaced by just straight-up yelling and Zac Efron saying "girl" a lot.  At the end of the "song" Zac Efron introduces himself as Chorky, and Vanessa Hudgens says her name is "Lumpkinella."
BUT WAIT, THERE'S MORE. As if "Bad Lip Reading" could read my mind, the "Stick to the Status Quo" scene also got the treatment.
It's everything I could have ever wanted and more.
I'm not exaggerating when I say I would watch a full 90 minutes of this version of "High School Musical."
Citations: 'High School Musical' Gets the 'Bad Lip Reading' Treatment -- With Hilarious Results! (Entertainment Tonight)