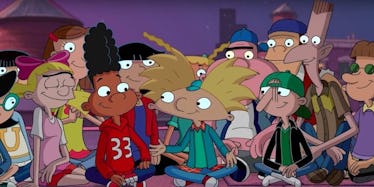 'Hey Arnold!' Cast Weighs In On That Insane Fan Theory About Arnold – EXCLUSIVE
Nickelodeon
Hey Arnold! is coming back to TV with a two-part series on Nickelodeon and '90s kids are losing their dang minds.
I spoke exclusively with the cast of the new Hey Arnold!: The Jungle Movie at the 2017 Comic-Con San Diego and got the scoop on everything, including this insane Hey Arnold! fan theory that's been brewing over the years.
The theory basically says Arnold's grandparents are actually his parents, who had him late in life and that's why he has a football-shaped head. Some fans went even further to diagnose Arnold with hydrocephalus. There's actually a specific form of hydrocephalus that's known as Arnold Chiari Syndrome.
As I talked to Lane Toran (the original Arnold), Jamil Walker Smith (the original Gerald), Mason Vale Cotton (new Arnold), and Benjamin "Lil P-Nut" Flores, Jr. (new Gerald), they told me they have heard the theory and gave their thoughts.
Flores, Jr.: I mean, we'll find out in the movie, which comes out in the fall of 2017. Smith: I think the head thing would be more in line if grandma and grandpa were actually brother and sister and had a baby. That's how you get that odd-shaped head. The whole new thing is women are having babies at 45 and 50 and they turn out just cute as a button. FJ: But if you have a brother and a sister, and they're old, and they have a baby... S: FOOTBALL HEAD! FJ: Touchdown!
Hey Arnold!: The Jungle Movie follows Arnold and the whole cast (Gerald, Helga, Phoebe) taking a trip to San Lorenzo (doesn't actually exist but is somewhere in Central America) to find out about his missing parents.
So, I guess we'll really find out if Arnold's grandparents are really his parents, or if his real parents have been chilling in Central America all these years.
The special airs on Nickelodeon on November 23.