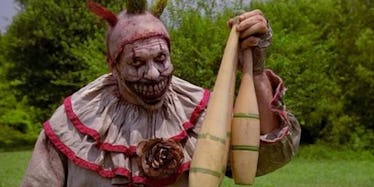 Here's What Twisty The Clown From 'AHS' Looks Like In Real Life
FX/YouTube
Over the past six years American Horror Story has given us some truly sinister, terrifying characters. Dr. Thredson, Dandy Mott, The Countess, and The Butcher have all scared the sh*it out of us at some point, but there is one character, in particular, that takes the damn cake: Twisty the Clown from American Horror Story: Freak Show. Since Freak Show aired, Twisty has become an icon of horror culture. As if clowns aren't freaky enough as it is, Twisty's signature bloody, ripped costume and his menacing, ear-to-ear grin have burned their way into our minds to haunt us forever. No matter how sad the clown's backstory is, that doesn't make him any less petrifying.
For those of us who still have nightmares about the demonic clown, I have some good news that might help you sleep at night: The actor who plays Twisty the Clown on Freak Show looks nothing like his character in real life. Indeed, unlike his on-screen character, John Carroll Lynch wears clean clothes and does not have a disfigured face that he masks with an overly toothy smile. Clearly it took some serious special effects, makeup, and CGI efforts to turn the actor into the bone-chilling clown that still makes us shudder.
Definitely not as scary in real life. In fact, he looks kind a nice if you ask me. I doubt Twisty knows how to tie a half-Windsor knot like that.
In case Twisty's plot in Season 4 of AHS wasn't enough for you, though, the demented clown is returning to play a part in the upcoming seventh season of the show, AHS: Cult. So far, clips and trailers from the upcoming season have only featured Twisty as a doll and in comic books, so there's no guarantee we'll be seeing John Carroll Lynch reprise his role, but, trust me, I think seeing him as a doll is just as creepy.