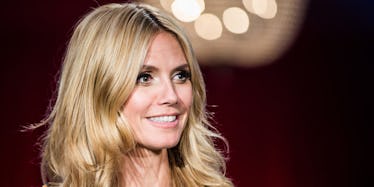 Heidi Klum Really Wants To Be The Prom Queen Of This Year's Oscars
Getty Images
There was always that one girl in high school who got all the guys.
She was 10 feet tall, had flowing blonde hair and was always down to party.
This year's Oscars is no different. Heidi Klum knows she's the embodiment of every head cheerleader at every school in the country. This golden goddess clearly wanted to choose the prettiest, flowiest gown she could find -- and, well, she certainly succeeded.
The "Project Runway" star and supermodel showed up in a rather interesting one-shoulder purple gown by Marchesa, and E!'s "Fashion Police" is clearly eager to charge her with a fashion felony.
But, hey, at least she'll probably go home with the prom king.