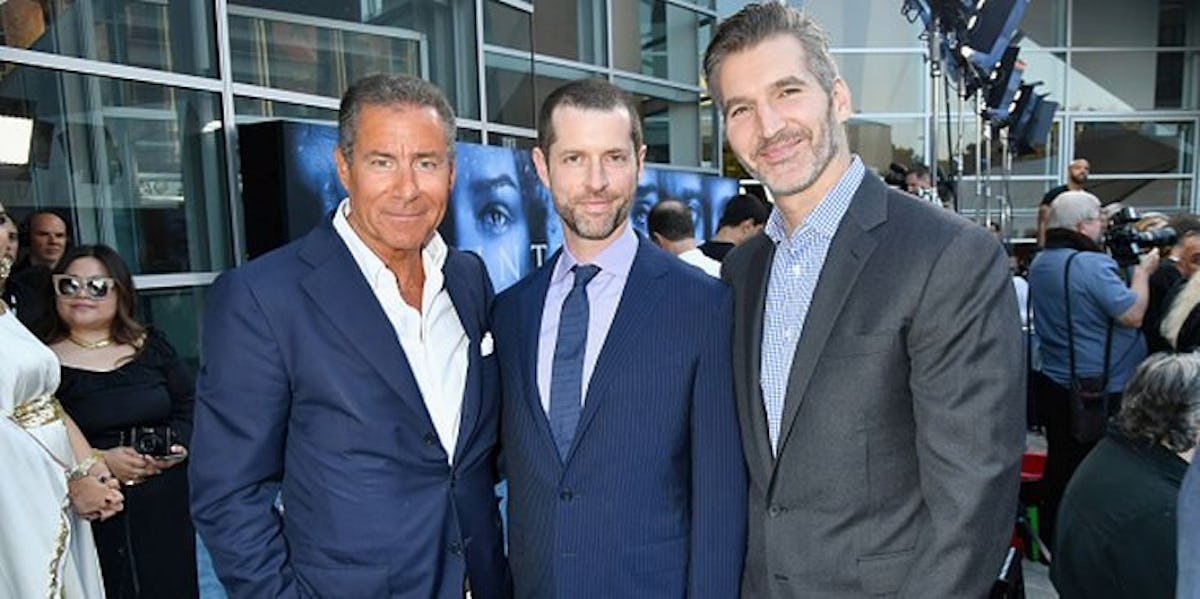 'Game Of Thrones' Showrunner Duo Announce New HBO Show That Will Be A Must-See
(Photo by Jeff Kravitz/FilmMagic for HBO)
As Game of Thrones winds down, HBO is looking for replacements. As we know, there are no less than five Westeros set prequels in the works currently on the network, in hopes that the best show makes it to air.
But none of those shows are going to feature showrunners David Benioff and Dan Weiss because both men have made it clear their days in Westeros are over.
Today, HBO President Casey Bloys announced the duo have set their new show, Confederate, and they're going somewhere far more terrifying: The United States of America.
Well, sort of. To quote the press release:
Game of Thrones creators/showrunners David Benioff and D.B. Weiss will return to HBO with their new original series, Confederate.
It's not a historical drama. It's an "Alternative History" drama. One where the south won the Civil War and the Confederate States of America exists alongside the USA.
Confederate chronicles the events leading to the Third American Civil War. The series takes place in an alternate timeline, where the southern states have successfully seceded from the Union, giving rise to a nation in which slavery remains legal and has evolved into a modern institution. The story follows a broad swath of characters on both sides of the Mason-Dixon Demilitarized Zone – freedom fighters, slave hunters, politicians, abolitionists, journalists, the executives of a slave-holding conglomerate and the families of people in their thrall.
In terms of where prestige TV is heading, this makes sense. Amazon has The Man In The High Castle, which is based on Philip K Dick's alternate history novel where the Nazis won WWII. Hulu has The Handmaid's Tale, which is an alternative history set slightly in the future where a (faked) terrorist attack is used for religious zealots to stage a coup and remake America in the own image. Now HBO will have an alternative history type tale, set slightly in the future. One where, if nothing else, people will not be able to complain about them not casting enough black actors.
It should be noted that Benioff and Weiss aren't doing this alone. Nichelle Tramble Spellman ("Justified," "The Good Wife") and Malcolm Spellman ("Empire," the forthcoming "Foxy Brown") will be partnering with them on executive producing and writing the series.
Production on the new series will begin when Game of Thrones Season 8 finishes filming.