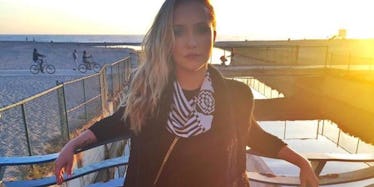 Hayden Panettiere Is Receiving Treatment For Her Postpartum Depression
Hayden Panettiere is now getting treatment for her battle with postpartum depression.
She had her first child, Kaya, in December 2014 with fiancé Wladimir Klitschko.
Panettiere opened up about her depression on "Live! with Kelly and Michael" in late September.
She said,
I can very much relate. It's something a lot of women experience. When [you're told] about postpartum depression you think it's 'I feel negative feelings towards my child, I want to injure or hurt my child.' I've never, ever had those feelings.
She continued,
Some women do. But you don't realize how broad of a spectrum you can really experience that on. It's something that needs to be talked about. Women need to know that they're not alone, and that it does heal.
The actress recently tweeted a photo saying she's finally starting to feel like herself again.
Panettiere plays Juliette Barnes on ABC's "Nashville." Her character also suffers from postpartum depression.
Citations: Hayden Panettiere Seeking Treatment for Postpartum Depression (US Weekly)