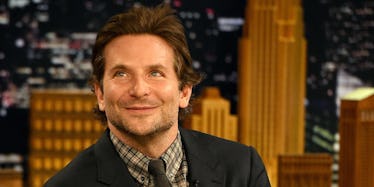 24 Times Bradley Cooper Pretty Much Got You Pregnant Just By Existing
Getty Images
If you have a pulse, you've probably spent at least one-third of your life stalking Bradley Cooper.
Don't be ashamed, we've all been there. It's hard living on the same planet as a man who's that freakishly good-looking. Sometimes, it's even painful.
I mean, after staring at Bradley for too long, it feels like he virtually has my babies. I'm sure you've experienced similar sensations. Just one look at those baby-blue eyes and boom, there's our child.
It's clear the world is feeling hot right now for some Bradley Cooper.
Amy Schumer recently confessed her feelings for him and thinks they're getting engaged.
Ellen DeGeneres just had Bradley on her show to lead a cooking demo.
Plus, his upcoming film "Burnt" hits theaters this Friday, October 23, so his body will be blown up on the big screen, ready for all to see.
In honor of this global warming (sizzle sizzle), let's look back at 23 times Bradley Cooper pretty much got you pregnant.
Do your best to get through this post without having another one of his babies. ARE YOU READY FOR THE CHALLENGE?
1) There was that time he gave this seductive look and somewhere, in the far-off distance, a stork delivered a bundle of smiling newborns to their future homes.
2) There was that time he kissed Scarlett Jo and giggled with her, and it was the most intimate experience of your life.
3) Or how about this? Remember when he gave us the cutest little peek at his curly chest hair?
4) Or when he wore sweats and a trash bag and all you could think was, "WHY SO MANY LAYERS, BRADLEY?"
Why can't I see your sweaty, glistening bod?
5) There was that time he laughed and his white teeth legitimately blinded the entire country with their beauty.
6) And just, IDK. Look at him. Take it all in. Bradleeeyyyyyyyyy.
7) There was that time he wore this suit.
8) AND THAT TIME HE WAS CHILLING IN THIS BATHTUB.
9) THERE WAS HIM, BRADLEY, OUR GOD, just sitting there. Shirtless. The azure of his eyes taking you in, holding you, guiding you into the light...
10) ...protecting you from danger, keeping you close, loving you harder than you ever loved yourself.
Yup, just had another child. Right now. From this.
11) There was that time he made this face.
12) And this one.
13) And this one.
14) And this one.
15) There was this beautiful moment he was shirtless AND laughing at the same time.
16) There was this scene, the most iconic and wondrous scene known to mankind.
17) JUST THE GREATEST SCENE IN THE HISTORY OF SCENES.
18) ARE YOU PREGNANT YET? ARE YOU DEAD?
God bless this scene. God bless "The A-Team."
19) There was this model shot, which was hot and stuff.
20) And this adorable mini collage that you should print out and hang on your ceiling.
21) There's more shirtless, sweaty Bradley.
22) LA LA LA LA LA LA LA
23) LA LA LA LA LA LA LA LA LA LA LA LA LA LA
24) And finally, THERE'S THAT SAME SCENE FROM EARLIER BUT SLOWED DOWN SO YOU CAN ABSORB EVERY .0099343 MILLISECONDS OF IT.
BRB, going into labor.