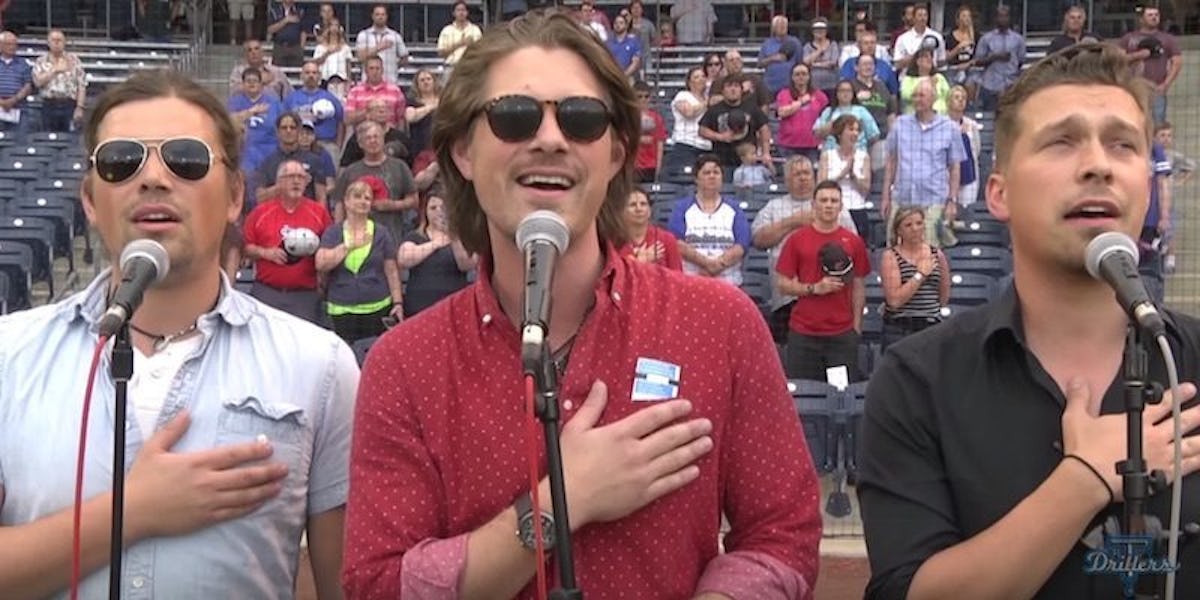 It Must Be The '90s Because The Hanson Brothers Just Sang The National Anthem
YouTube
HAD I ANY IDEA HANSON WOULD BE SINGING THE NATIONAL ANTHEM AT A TULSA DRILLERS BASEBALL GAME ON FRIDAY I WOULD HAVE HIGHTAILED IT TO OKLAHOMA AND STORMED THE DAMN FIELD.
Back in 1998, I missed my first chance to ambush Hanson with sweet kisses.
I was still just in elementary school, but as I stared up at Taylor Hanson slapping away at his keyboard in a pair of red leather pants at a show, my mother, my cousin Lindsay, the rest of the band and an entire concert hall's worth of people faded away. It was just me and him: two Taylors, suspended in time, thirsty for kisses.
I didn't take my shot that day, and I've spent my entire life regretting it.
My aim isn't to make Taylor Hanson feel uncomfortable or unsafe, but simply to help us both reach the sublime plane of existence that is one warm lip smush away.
It's my own fault I missed my most recent chance to lay one on the Hanson front man in full view of a stadium packed with Drillers fans.
I know better than anyone the three Hanson brothers are Tulsa natives. Hell, the city once even recognized May 6 as Hanson Day in honor of Isaac, Taylor and Zac's successful release of Middle of Nowhere.
As a girl whose entire childhood was one long Hanson Day, I blame only myself for letting Taylor get all the way through his tear-conjuring, Christina Aguilera-style vocals at the end of Friday's national anthem without at least offering him a passionate, congratulatory French.
Anyway, watch this video up top of Hanson singing America's most sacred song while I retreat, plot and moisturize my Kylie Jenners for another day.