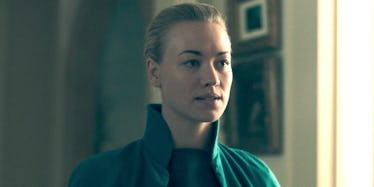 This 'Handmaid's Tale' Star Just Revealed She Got Married At The Emmys Red Carpet
Hulu
Serena Joy may not have been in the best relationship on The Handmaid's Tale, but actor Yvonne Strahovski is a completely different story. Although Strahovski has kept her romantic life under wraps for years, she finally revealed on the Emmys red carpet that she tied the knot with her longtime boyfriend Tim Loden. Though they've had a very low-key romance for the past few years, Strahovski and Loden announced their marriage. Get to know everything about the hot new married couple here.
Yvonne Strahovski surprised fans by revealing she had married her longtime boyfriend Tim Loden earlier this summer while being interviewed on the E! Red Carpet Emmys pre-show. The news was so shocking because the celebrity couple has kept their relationship incredibly low-key and private for years now — in fact, it was so low-key that many fans had even assumed they may have broken up years ago.
Strahovski and Loden started dating back in 2009. Tim Loden was already acting in some shorts, but actually got his first major break on his girlfriend Strahovski's long-running spy comedy Chuck. Loden had a guest spot on a 2010 episode of the series after he had recently begun his relationship with Strahovski. Though their relationship was pretty well-known at the time, after they stopped being spotted together there were actually rumors they had broken up in 2011. Obviously, now we know those rumors were unfounded, and the couple is clearly stronger than ever this year.
Tim Loden is best known these days for his recurring role as Vincent on Bloodlines. For her part, Yvonne Strahovski turned a total 180 from the steamy, badass spy Sarah Walker on Chuck to become best known for her role as the frighteningly cold and punishing Serena Joy Waterford on Hulu's hit apocalyptic drama The Handmaid's Tale.
Strahovski revealed she and Loden married this past summer and brought him up with her to complete her red carpet interview. Loden was at the Emmys to support his new wife's multiple-nominated show The Handmaid's Tale. The post-apocalyptic gender drama set a record for Hulu this year as the most nominated show in the streaming service's history. The Handmaid's Tale tied for the third most-nominated show of this year's Emmy Awards with HBO's technological smash Westworld, which each got seven nominations. The only shows to get more nominations are HBO's Big Little Lies and The Night Of with eight nominations, and Feud: Bette and Joan and Veep with ten each.
Hopefully, we will be seeing a lot more of Yvonne Strahovski and Tim Loden together now that they were more open than usual about their marriage announcement. Strahovski will next be seen in the upcoming horror thriller He's Out There and in the fourth Predator movie The Predator next year. And of course, in the second season of The Handmaid's Tale, which is slated to premiere on Hulu sometime in 2018.
As for The Handmaid's Tale's prospects at the Emmys this year, the crushing drama is a definite frontrunner to clean up at the ceremony. The drama, which smartly comments on gender politics in America through a sci-fi lens, has been praised for being timely and even more necessary under the shifting politics of the year. The show already took home three trophies at the Creative Arts Emmys, which were presented a week before the Primetime Emmy Awards. The show has already been awarded for its outstanding use of production design and cinematography, along with recurring star Alexis Bledel taking home her first-ever Emmy for Outstanding Guest Actress in a Drama Series for her heartbreaking role as Ofglen/Ofsteven.
Though Yvonne Strahovski isn't nominated herself for her role as Serena Joy, she and the rest of the cast are primed to grab the coveted Outstanding Drama Series award.