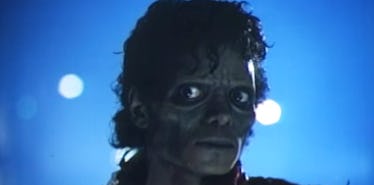 15 Halloween Songs For Your Party Playlist That'll Spook Your Friends
"Thriller" isn't the only song that'll give your party guests the heebie-jeebies.
YouTube
There's only one thing that's harder than picking your Halloween costume: Choosing which of your favorite songs to add to your Halloween playlist. From classics like "Thriller" and "Monster Mash" to more modern hits like "Disturbia" and "She Wolf," there's an endless amount of spooky tunes that will give any party those haunted vibes necessary for the All Hallows Eve season. If you're hosting a Halloween bash and are determined to make the perfect mix, get ready to cross this task off your to-do list. I've rounded up 15 Halloween songs for your playlist that will keep all your guests entertained through the night.
Besides the classics, this list includes a few songs from artists like Christina Aguilera, Halsey, and Kim Petras that you may have never heard of before. They're hidden Halloween gems that deserve more recognition and I guarantee you and your friends will love them. In fact, they're so good, they'll become your go-to songs for your Halloween party next year.
You'll also find some songs in this playlist from your favorite Halloween movies like The Nightmare Before Christmas, The Addams Family, and Hocus Pocus. Get ready to dance the night away because these 15 Halloween songs for your Halloween playlist are all bops. Check them out below!
Happy haunting, everyone!