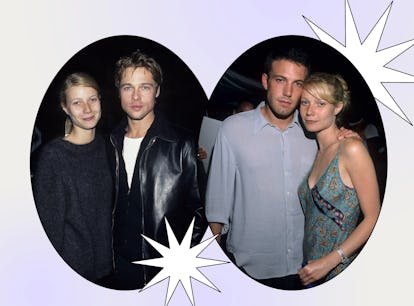 Gwyneth Paltrow Said Brad Pitt Was Better In Bed Than Ben Affleck
Wonder how J.Lo feels about this…
Kevin.Mazur/WireImage/Getty Images
On a May 3 episode of Call Her Daddy, Gwyneth Paltrow got candid about her exes — and their respective skills in the bedroom. During the interview, the Goop founder revealed which of her famous exes, Brad Pitt or Ben Affleck, was better in bed. Though she said the question was "really hard" to answer, it didn't take long for Paltrow to decide — and Pitt was the winner.
A little refresher: Paltrow and Pitt were together from 1994 to 1997, but they split a few months after their engagement. Then Paltrow dated Affleck on and off from 1997 to 2000. "Brad was like the sort of major chemistry, love of your life, kind of, at the time," she explained to host Alex Cooper. "And then Ben was, like, technically excellent." (Apparently, in this case, chemistry beats technique.) Paltrow added, "I can't believe my daughter's listening to this."
Throughout the interview, the actor gave more details about her past relationships, and she seemed to have no hard feelings toward anyone. When talking about her and Pitt's failed engagement, she explained their relationship was "major love at first sight, it was crazy." But they broke up because she "had a lot of development to do." Paltrow explained, "In a lot of ways, I didn't really fully start to come into myself until I was 40 years old... And I had such a pleasing issue. I didn't really even understand how to listen to my instincts and act from that place."
Recalling the split from Pitt, Paltrow added, "It was the right thing at that time, but it was really hard... He's a great guy. He's wonderful, I really like him a lot." (Before you get too excited, there's no pining involved here. "I finally found the Brad I was supposed to marry. It just took me 20 years," Paltrow quipped. She's been married to Brad Falchuk since September 2018.)
In the grand scheme of things, it doesn't sound like Paltrow has any regrets. When playing a round of F*ck, Marry, Kill, she had to choose between Chris Martin, Brad Pitt, and Ben Affleck. She chose Martin (whom she shares two children with) as her Marry: "I would do that all again." Pitt won her F*ck, leaving Affleck as her Kill. "Ben, yeah, God bless him," Paltrow said.